The Worthless Peons are a barbershop quartet composed of Sacred Heart staff, who sing A Capella. The members are Ted (lead tenor), Randall (bass), Crispin (baritone), and Roy (tenor). They are portrayed by the band The Blanks, which is composed of Sam Lloyd, Paul Perry, George Miserlis, and Philip McNiven.
Performances
The Worthless Peons often sing around the hospital, often by the nurses and in the lift. They were paid $8 to perform at Turk and Carla's wedding. They sang the classic wedding song when Carla walked down the aisle, but performed the song 3 times as Carla kept on having to come down to update everyone on Turk's lateness. After the wedding, they performed "Eight Days a Week" by The Beatles at the wedding reception for which they were paid an additional $16.
It is written in the band code that they must stay within earshot at all times, in case they need to practice, or in case Ted needs the courage their presence brings. ("My Lawyer's in Love")
Genres and songs sung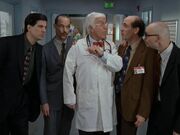 Cartoon theme songs
Classic TV theme songs
Commercial jingles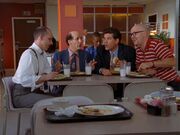 Songs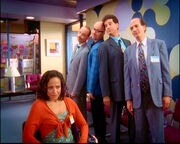 Original Songs
Trivia
Ted comments that $7 is their usual rate, but they were paid $8 to perform at Turk and Carla's wedding. ("

Our Intern Class

")
Ted accepted money at least once without telling the rest of the group. His reasoning was he needed the money because he was homeless.
The Peons appear in J.D.'s last fantasy at Sacred Heart where, they sing "boing fwip". ("

My Finale

")
It's possible that Roy's position in the "on site property management, etc" department would make him immediate superior to the maintenance staff as well, including the Janitor.
The Worthless Peons are a real A Capella group outside of the show. They are called The Blanks and you can buy their CD through their online store.
In the extended cut of "My Way Home" on The Complete Fifth Season DVD Ted mentions that the band had to change their name to "Fog Cats" because they were sued by a Dutch metal band.
They also had an appearance in the episode "A One Story Town" of Cougar Town: They were recruited by Jules Cobb to sing in order to create a romantic moment to help Bobby and Angie get their first kiss. For this, Ted was allowed to keep her robe.
Video
Community content is available under
CC-BY-SA
unless otherwise noted.