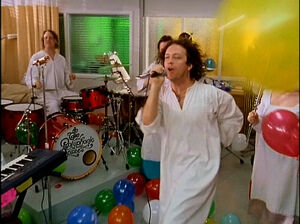 The Polyphonic Spree is a choral symphonic pop rock band from Dallas, Texas that was formed in 2000 by Tim DeLaughter. The band's sound relies on a variety of vocal and instrumental color by featuring a choir, flute, trumpet, trombone, violin, viola, cello, percussion, piano, guitars, bass, drums, electronic keyboards, and EWI. DeLaughter is the lead singer.
DeLaughter's previous group, Tripping Daisy, came to an abrupt end in 1999 when guitarist Wes Berggren, tragically passed away due to a drug overdose. The making of The Polyphonic Spree a reality was, in part, a reaction to his death.
They also made an appearance in "My Choosiest Choice of All", a Season Three episode of Scrubs as themselves.
Video