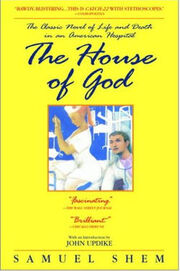 The House of God is a satirical novel written by Samuel Shem (a pseudonym of the psychiatrist Stephen Bergman). It follows Dr. Roy Basch, a new intern starting his medical internship at "The House of God Hospital".
Scrubs was influenced by the book and was a required reading material among the writers. Passages from the book were quoted in the first season episodes "My Balancing Act" and "My Student". Terms from the book Turfing, Bouncing and Gomers are used throughout out the show.
GOMER is slang for Get Out Of My Emergency Room.
Laws of the House of God
GOMERS DON'T DIE.
GOMERS GO TO GROUND.
AT A CARDIAC ARREST, THE FIRST PROCEDURE IS TO TAKE YOUR OWN PULSE.
THE PATIENT IS THE ONE WITH THE DISEASE.
PLACEMENT COMES FIRST.
THERE IS NO BODY CAVITY THAT CANNOT BE REACHED WITH A #14G NEEDLE AND A GOOD STRONG ARM.
AGE + BUN = LASIX DOSE.
THEY CAN ALWAYS HURT YOU MORE.
THE ONLY GOOD ADMISSION IS A DEAD ADMISSION.
IF YOU DON'T TAKE A TEMPERATURE, YOU CAN'T FIND A FEVER.
SHOW ME A BMS* WHO ONLY TRIPLES MY WORK AND I WILL KISS HIS FEET.
IF THE RADIOLOGY RESIDENT AND THE MEDICAL STUDENT BOTH SEE A LESION ON THE CHEST X-RAY, THERE CAN BE NO LESION THERE.
THE DELIVERY OF GOOD MEDICAL CARE IS TO DO AS MUCH NOTHING AS POSSIBLE.
*Best Medical Student, a student studying at the Best Medical School.
External Links