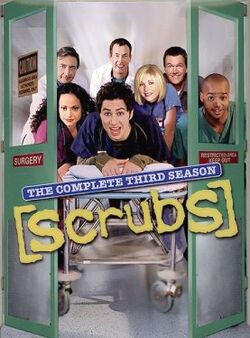 The Complete Third Season was released onto DVD in region one on May 9, 2006. It contains all 22 Season Three episodes, plus bonus features.
Product description
Get ready for one wacky house call with the hilarious third season of Scrubs. It's a wole new year for the staff of Sacred Heart as Elliot undergoes a complete makeover in an attempt to change her luck, and the residents discover the incredible healing powers of an epiphany toilet.
Joining J.D. and the gang are a host of hysterical guest stars, including Tom Cavanagh (Ed), Tara Reid (American Pie) and the legendary Michael J. Fox - "One of our all-time favorite comedy actors returns to the small screen... on our of our all-time favorite shows," raves Entertainment Weekly. Bursting with highly contagious bonus features and featuring the show's original, unedited music in 5.1 Surround Sound, Scrubs' complete third season is just what the doctor ordered.
DVD case description
The Third Season DVD case has a plastic cover and cardboard fold-out case. The slip cover is see-through, and it looks as if the main characters are pushing a gurney through a door to surgery, but just the gurney is seen on the cardboard case. Also, on the back of the cardboard case, the skeletons of the cast members pictured on the rear of the plastic sleeve are shown. On the first disc is Elliot and J.D., Carla and Turk are on the second, and Janitor and Dr. Cox are on the third.
PAL
There are four discs in Region 2/PAL On the first disc is J.D., Elliot is on the second, Turk is on the third and Dr. Cox is on the forth.
Discs
Disc 1
Disc 2
Disc 3
* Optional audio commentary.
** Supersized episode.
Bonus features
Menus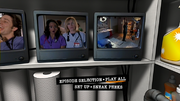 The season three DVDs continue the use of the CGI Sacred Heart. This time, the DVD shows you walking through the hallway and suddenly hiding in the storage closet, a gag used many times on Scrubs. The episode selection menus are TV monitors in the storage closet.
Community content is available under
CC-BY-SA
unless otherwise noted.