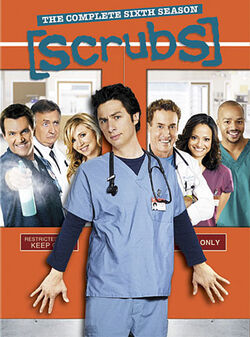 The Complete Sixth Season was released onto DVD in region one on October 30, 2007. It contains all 22 Season Six episodes, plus bonus features.
Product description
Fill your prescription for laughs with the sixth dose of the Emmy Award-winning Scrubs. The doctors of Sacred Heart make their rounds in the most surreal comedy on network television.
Expect big bundles of laughs this year as J.D. and Kim, Turk and Carla, and Dr. Cox and Jordan are all expecting little bundles of joy, and the entire crew take an unforgettable road trip.
Continue your Scrubs collection with all 22 episodes of the groundbreaking sitcom's sensational sixth season. with a band of hilarious guest stars and exclusive bonus features, including alternate takes and bloopers, this three-disc set is the perfect cure for the entertainment blues.
DVD case description
The Sixth Season DVD case is once again all cardboard. The sleeve and fold-out case have promotional images of the cast and from episodes. The first disc has a close up image of an IV bag, the second has a rose, and the third disc has an apppletini glass with a thermometer in it.
Discs
Disc 1
Disc 2
Disc 3
Note: Optional audio commentary are available on all episodes.
Bonus features
Menus
The Season Six DVD return to the CGI Sacred Heart locations. The main menu and episode selection are of coffee cups in Coffee Bucks. The bonus features menu is of a muffin shelf.
Community content is available under
CC-BY-SA
unless otherwise noted.