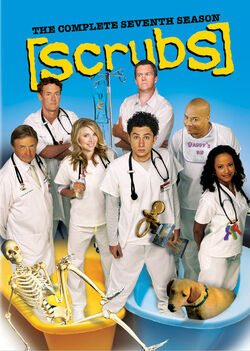 The Complete Seventh Season was released onto DVD in region one on November 15, 2008. It contains all 11 Season Seven episodes, plus bonus features.
Product description
Get ready for an extra dose of laughs, and enjoy every surreal moment as television's celebrated sitcom hits new heights in its sensational seventh season.
The best way to enjoy the contagious comedy of Season Seven is on DVD, complete with exclusive bonus features - including a behind-the-scenes look at the "fairytale" episode directed by Zach Braff, bloopers and alternate lines. It's off-the-charts entertainment you'll want to watch over and over again.
DVD case description
The Seventh Season DVD case breaks from the mold of the previous seasons. It is a traditional black plastic DVD case with a cardboard sleeve. Inside the case is an episode list sheet. Both discs have baby outfits on them, with "Newbie" written on them.
Discs
Disc 1
Disc 2
Note: Optional audio commentary are available on all episodes.
Bonus features
My Making of II: "My Princess" - Go behind the scenes of the most ambitious Scrubs episode ever as Season Seven's finale finds Dr. Cox spinning a bedtime story, complete with damsel in distress, hideous monster and village idiot, based on real life goings-on at Sacred Heart (Guess who he casts as the knight in shining armor?)
One-On-One With Ken Jenkins - The actor who created Scrub's irascible chief of medicine, Dr. Kelso, sits down for a revealing exclusive interview.
Deleted Scenes
Alternate Lines
Bloopers
Easter Egg: Just A Other Typical Day In the Scrubs Elevator
Audio commentaries on every episode:
Menus
The Season Seven DVD menus are once again CGI Sacred Heart locations. This time, all menus are modeled after Rateyourdoc.org on a laptop in Coffee Bucks.
Community content is available under
CC-BY-SA
unless otherwise noted.