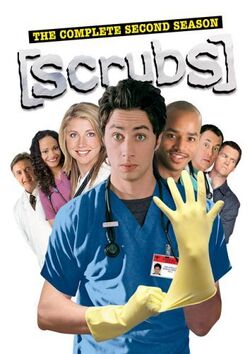 The Complete Second Season was released onto DVD in region one on November 15, 2005. It contains all 22 Season Two episodes, plus bonus features.
Product description
Make an appointment with Scrubs. Nominated for two Emmy Awards in its second year, the hilarious sitcom is "irreverent and widely inventive," raves TV Guide.
Will J.D. get together with Elliot, and will Carla finally accept Turk's wedding proposal? the wacky staff of Sacred Heart Hospital is back, and they've brought along some guest stars (Heather Locklear, Tom Cavanagh, and John Ritter) for a booster shot of laughs.
Enjoy all 22 episodes of Scrubs sensational second season - with the original, unedited music. Overflowing with great bonus features, including a one on one with John C. McGinley, outtakes and deleted scenes, this spectacular DVD box set offers the best kind of contagious comedy.
DVD case description
The second season's DVD case is completely made of laminated cardboard. The cardboard sleeve and the fold-out case have embossed stickers and other hospital gags imprinted on them. The three discs have pictures of J.D., Elliot, and Turk, respectively. Dr. Kelso is featured on the Region 2 forth disc.
Discs
Disc 1
Disc 2
Disc 3
* Optional audio commentary
Bonus features
Menus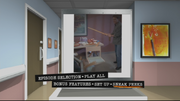 The menus on the second season DVD are the first to take you down a CGI version of the hallways of Sacred Heart. The different menus are on different items found in the hallways in Sacred Heart, and the episode selection menu is on a computer in an office. The bonus feature menu is of the buttons on an elevator.
Community content is available under
CC-BY-SA
unless otherwise noted.