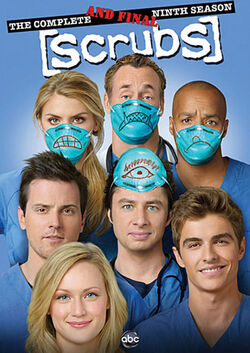 The Complete Ninth and Final Season was released onto DVD in region one on September 28, 2010. It contains all 13 Season Nine episodes, plus bonus features.
Product description
See how the story ends for J.D., Elliot, Turk and the rest of your favorite characters in ABC's Scrubs: The Complete Ninth And Final Season. The heroes of Sacred Heart may have finished their rounds, but the laughs never stop as they mentor a brand new class of med students!
J.D. returns to teach at Sacred Heart's medical school with the old gang and is surprised to find an impressionable young student has picked up where he left off. Meet Lucy and her classmates, Drew and Cole, as they try to fit in while they do their best to stand out.
Relive every clever and quirky moment of Scrubs' outrageous final season, complete with never-before-seen bloopers, deleted scenes and interviews with the show's cast. Complete your Scrubs collection with the Ninth And Final Season on DVD. It's the best house call you'll ever get!
DVD case description
The DVD case for Season Nine is a clear traditional snap DVD case with a cardboard slipcover. Because the case is clear, images of the characters and episodes can be seen behind the discs. The episodes are also listed behind the discs on the reverse of the cover art.
Discs
Disc 1
Disc 2
Bonus features
Menus
The DVD menus begins with a quick recruitment video for Winston University, followed by clips from the season.
Community content is available under
CC-BY-SA
unless otherwise noted.