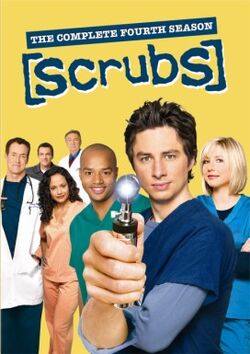 The Complete Fourth Season was released onto DVD in region one on October 10, 2006. It contains all 25 Season Four episodes, plus bonus features.
Product description
This year, the laughs are off the charts in TV's most surreal and sidesplitting show. Scrubs' hilarious fourth season does "an amazing job combining cheeky comedy... and honestly poignant drama," raves Newsweek.
Catch the most contagious comedy around with every episode, complete with hysterical bonus features and the show's original, unedited music in 5.1 Surround Sound.
Matthew Perry, Tom Cavanagh, and Molly Shannon are just a few of the guest stars joining the staff this year. And the crew of Sacred Heart makes their biggest moves yet as Elliot leaves the hospital for a new job, and J.D. faces life on his own for the first time.
DVD case description
The Fourth Season DVD case is once again all cardboard. The sleeve and fold-out case have promotional images of the cast and from episodes. The discs have images of skeletons on them, and discs 1 and 2 line up to make a bigger skeleton.
Discs
Disc 1
Disc 2
Disc 3
* Optional audio commentary.
** Supersized episode.
Bonus features
Menus
The menus are once again CGI areas of Sacred Heart. This season, the cafeteria is featured. Different videos of the episodes are played as if they were dished of food.
Community content is available under
CC-BY-SA
unless otherwise noted.