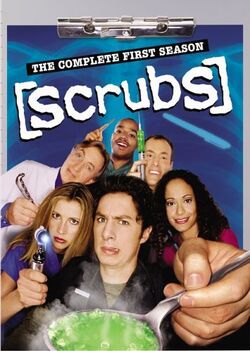 The Complete First Season was released onto DVD in region one on May 17, 2005. It contains all 24 Season One episodes, plus bonus features.
Product description
Check into the surreal world of Sacred Heart Hospital, where the staff is bizarre and the laughter is contagious. Fresh-faced J.D. (Zach Braff) and his fellow new medical residents weave their way through each unpredictable day with hilarious results. Scrubs is "a masterpiece," raves Matthew Gilbert of The Boston Globe.
Now relive all 24 episodes of the groundbreaking show's highly acclaimed first season. With a host of great bonus features, including deleted scenes and a fascinating retrospective documentary, this spectacular three-DVD set is off-the charts entertainment you'll want to watch over and over again.
DVD case description
The Complete First Season DVD case is the most complex of all the Scrubs DVD cases. In its original release, the DVD case had a clear plastic sleeve that features all the visible words and images. The actual case is composed of cardboard and plastic DVD trays. It is fashioned like a clipboard, with a detachable semi-transparent x-ray on the front of the cardboard. On the inside there is an "appendix" booklet with the names of the episodes. The three discs show the smiling faces of J.D., Elliot, and Turk, respectively. Dr. Cox is featured on the Region 2 forth disc.
Discs
Disc 1
Disc 2
Disc 3
* Optional audio commentary
Bonus features
Menus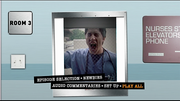 The DVD menus are modeled after things seen on the walls in Sacred Heart: bulletin boards, X-ray viewers, and the episode selection screen is a computer monitor.
Community content is available under
CC-BY-SA
unless otherwise noted.