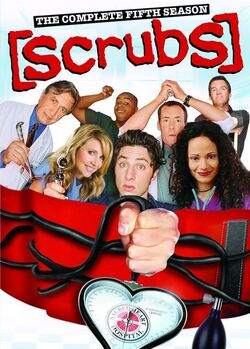 The Complete Fifth Season was released onto DVD in region one on May 22, 2007. It contains all 24 Season Five episodes, plus bonus features.
Product description
Make an appointment with the outrageous doctors of Sacred Heart. Garnering an Emmy Award nomination for Best Comedy Series, Scrubs fifth season is "sillier and more whimsical than ever," raves Newsday.
This year, the laughs are off the charts as J.D. moves in with Turk and Carla, and Elliot uses an interesting form of blackmail in order to get her job back at the hospital.
Jason Bateman and Cheryl Hines are just some of the sensational guest stars joining TV's quirkiest cast. Experience all 24 episodes, plus exclusive bonus features, including a never-before-seen extended cut of the 100th episode. It's just what the doctor ordered.
DVD case description
The Fifth Season DVD case is once again all cardboard. The sleeve and fold-out case have promotional images of the cast and from episodes. Each disc has a hand in a rubber glove with one, two, and three fingers held up.
Discs
Disc 1
Disc 2
Disc 3
* Optional audio commentary.
** Extended cut episode with optional audio commentary.
Bonus features
Menus
Season Five DVD menus are no longer CGI Sacred Heart locations. Rather, clips from the season play in full screen with the traditional menu options overlaying.
Community content is available under
CC-BY-SA
unless otherwise noted.