The Complete Collection was released onto DVD in region one on September 28, 2010. It contains all 181 episodes of Scrubs, all 12 Scrubs: Interns webisodes, all original bonus features from the previous DVDs, plus exclusive bonus material.
Product description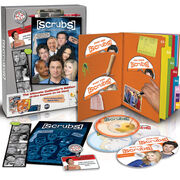 Check into the surreal world of Sacred Heart Hospital and relive every hilarious episode of the series that redefined television comedy. From their first days as "newbie" medical residents to their unforgettable final rounds, J.D., Elliot, Turk and all your favorite characters administer a healthy dose of contagious comedy. Experience every warm and quirky moment from all nine seasons in this spectacular 26-disc collection. It's just what the doctor ordered!
DVD case description
The Complete Collection DVD case comes with an outer container, and the DVD cases are modelled after a patient's folder, with different tabs for each season. Additional materials in the case include:
A J.D. Name Tag for Sacred Heart Hospital in Season One style
A Photo Booth style strip of the Scrubs cast
Lenticular box cover with a "Revealing Look At The Cast's Skeletal Side"
Bonus features
All bonus features from the previous nine DVD releases.
Exclusive bonus disc featuring "The Todd's High Five Scrubs Trivia Challenge" - a Scrubs trivia contest hosted by "The Todd". Win and unlock special never-seen bonus features as a prize:
UK Release
The UK Region 2 set was released on October 3rd 2011, it does not contain the bonus disc, the name tag, photo strip or box cover. Each season is in a separate Amaray style DVD case which are grouped into a cardboard container.
Community content is available under
CC-BY-SA
unless otherwise noted.