"

Hi, I'm Ted Buckland, but people call me 'The Buck'.

"

—

Ted




"

I'm betting they don't.

"

— Jules




Ted Buckland cameos in the season two finale episode of Cougar Town "Something Good Coming".
Synopsis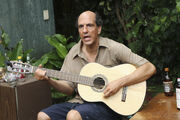 Travis moves to Hawaii after he is heartbroken. Jules (portrayed by Courteney Cox) and her friends decide to take a vacation to Hawaii to console him. On the island, they are introduced to Travis' new friend Ted Buckland, who posesses a new skill: the ability to turn any song into a sad song. Ted tries to start a new nickname "The Buck", but Jules can sense nobody calls him that. However, she later calls him "The Buck" to his extreme delight.
He later reveals to Laurie that he is in Hawaii trying to get over a broken heart. Gooch left him for Hooch and Ted couldn't compete for her because "Hooch is crazy!". He was later hit in the face with a surfboard by Travis. Ted later explained to Jules that if someone is really in love with someone else, they should be willing to go on any adventure with them. He also told her that he and Gooch broke up because they wanted different things out of life.
Music
"Love Shack" by The B52's (performed by Sam Lloyd)
"The Trolley Song" by Judy Garland (performed by Sam Lloyd)
"Take On Me" by A-ha (performed by Sam Lloyd)
"Shiny Happy People" by R.E.M. (performed by Sam Lloyd)
Quotes


"

I got Hooched and Gooched.

"

—

Ted



"

If someone is really the one, they should be willing to go on any adventure.

"

—

Ted



Videos
Trivia
Ted is the first Scrubs character to appear on Cougar Town, but Sam Lloyd is not the first Scrubs cast member to appear. Ken Jenkins, Robert Clendenin, Scott Foley, Windell Middlebrooks, Michael McDonald, and Shaughn Buchholz have all appeared as other characters; while Christa Miller and Courteney Cox are main cast members.
This episode officially gives Ted the distinction of the longest-tenured Scrubs character: 9 years, 7 months, and 23 days.
This episode also featured a crossover from the show Community (produced by Scrubs alums Neil Goldman and Garrett Donovan). In the Community episode "Critical Film Studies", the character Abed (Dani Pudi) talked about how he was given a role of an extra on Cougar Town by the producers as a gift for his birthday. In this Cougar Town episode "Something Good Coming", Dani Pudi appears as Abed as an extra in a scene with Laurie and Travis.
Community content is available under
CC-BY-SA
unless otherwise noted.