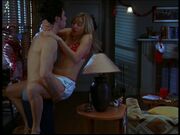 At Sacred Heart Hospital it is very common for employees to have sex with each other or with patients. Sex can be associated with friendship, love, or approval. Having sex in the on-call room is a common occurrence. Most of the characters in Scrubs don't have any negative preconceived notions about sex, with the exception of Laverne Roberts who believes premarital sex is sinful.
Selected Examples
J.D.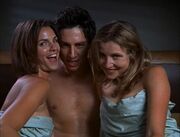 Category: J.D.'s Romantic Partners
J.D. was in several romantic relationships while at Sacred Heart. His first relationship was with Alex Hanson, who turned out to be a thief so he left her and immediately rebounded with Elliot, whom he would continue to hook up with on-and-off for the next eight years. Other partners include his blind date Julie Quinn, the lawyer Neena Broderick, Lisa the gift shop girl, and fellow doctor Kim Briggs. J.D. impregnated Kim and they had Sammy Dorian together, but their relationship didn't last because they didn't love each other. J.D. ended up marrying Elliot, and the two were expecting another child, as of his teaching semester at Winston University.
After sex, J.D. rings a tiny gong to notify Turk that he has just sealed the deal.
Elliot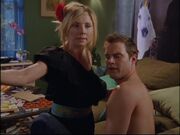 Category: Elliot's Romantic Partners
Like J.D., Elliot was in many romantic relationships while working at Sacred Heart. She first had sex with J.D. during her first year, and several times on-and-off until they ended up getting married after their eighth year. In between, Elliot dated patient Sean Kelly, visitor Jake, and nurse Paul Flowers. Besides J.D., her longest running relationship was with Dr. Keith Dudemeister. Because J.D. was living with her while she was dating Keith, he got to sit in and sometimes participate in their foreplay.
Elliot has talked to Carla about her sex life, but has given her conflicting information. She has confessed that she has never orgasmed before, but later said she was made fun of in school for her sex face.
Carla & Turk
Carla and Turk started dating very shortly after Turk started as an intern. As possibly the most stable relationship in the hospital, the two have a healthy sex life. While trying to conceive a child, Turk used the opportunity to have "angry sex". They had conception problems for a while, but eventually Carla became pregnant and Isabella Turk was born. The two had another child around the same time Turk began teaching at Winston U.
Jordan & Dr. Cox
Jordan and Dr. Cox were divorced upon J.D.'s start at Sacred Heart as an intern, but became a couple again. They never got remarried, but continued to live and sleep together. They had two children: Jack Cox and Jennifer Dylan Cox.
Other Examples
Community content is available under
CC-BY-SA
unless otherwise noted.