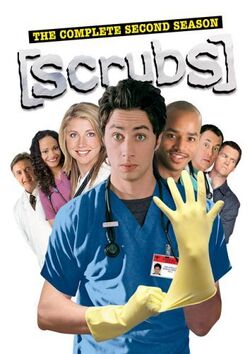 Season Two of Scrubs originally aired between September 2002 and April 2003 on NBC. It averaged 15.94 million viewers per episode, making it Scrubs' highest rated season. It received one Emmy nomination. It is available on DVD in regions 1, 2, & 4; and episodes are syndicated in most major markets.
Story
No longer interns, J.D., Turk, and Elliot feel more confident in their abilities as doctors at Sacred Heart Hospital. Reluctantly helping them through their problems is Dr. Cox, as the Janitor and Dr. Kelso make things difficult for them, as usual. Relationships come and go for some characters, but the relationship between Turk and Carla grows stronger, while Dr. Cox and Jordan have their first child.
The Sacred Heart team must cope with Jordan's disclosure of secrets from the last day of their first year. ("My Overkill") Soon after, still with some hurt feelings, J.D. Elliot, and Turk, now residents, are left in charge of the ICU for a night. ("My Nightingale") All residents at the hospital compete to win a trip to Reno ("My Case Study") and shortly afterwards everyone learns there are more important things, such as keeping secrets. ("My Big Mouth") The three residents try hard to find unique likable identities around the hospital, ("My New Coat") but J.D. finds out that he likes his identity better than that of his annoying brother. ("My Big Brother") Dr. Cox is tempted by a new woman at Sacred Heart, ("My First Step"), but after sleeping with her, chooses a pregnant Jordan. ("My Fruit Cups") Elliot finds herself cut off financially from her parents, as other people around the hospital receive their own reality checks. ("My Lucky Day") After J.D. started dating a cute girl, ("My Monster") Elliot and him hook up becoming "sex buddies". ("My Sex Buddy")
J.D. and Elliot roughly transition back to friends, ("My New Old Friend") and Turk decides to propose to Carla. ("My Philosophy") J.D.'s bad luck continues when he is responsible for getting a well loved doctor fired. ("My Brother, My Keeper") Dr. Cox sees a therapist about his personal life, and unadmittedly takes advice from J.D. ("His Story") Elliot and Carla begin having relationship problems, with Turk and a male nurse respectively, while Jordan goes into labor. ("My Karma") J.D. is tempted to join the private practice realm of medicine by a good doctor, but ultimately doesn't. ("My Own Private Practice Guy") J.D. makes an awkward moral decision when he begins seeing a comatose patient's wife, ("My T.C.W.") and takes another awkward step when he tries to fit in with the surgeons. ("My Kingdom") When the comatose patient dies, J.D. begins sleeping with his wife, ("My Interpretation") but ends the relationship when he realizes it was only fun because it was naughty. Turk and Carla almost get married at Sacred Heart's chapel, but Turk calls it off because the rushed version can't ever be Carla's dream wedding. ("My Drama Queen") Shortly after, all doctors at the hospital begin questioning how much they really like their jobs, and Dr. Cox realizes his isn't worth having if he has to put up with Kelso's attitude, and punches him in the face. ("My Dream Job")
Cast
Category: Season 2 Cast
Main Cast:
Supporting Cast
Guest Cast
Awards
Full list: List of Scrubs' awards and nominations
The second season was nominated for the following Emmy:
Outstanding Casting for a Comedy Series
Episodes
Category: Season 2 Episodes
Music
Full list: List of music featured in Scrubs

Scrubs is known for incorporating both classic and new songs, and has even featured songs that later turned out to be smash hits. The first season includes songs from Colin Hay, Toad The Wet Sprocket, Counting Crows, Barenaked Ladies, David Bowie, Simple Minds, and many more. Scrubs (Soundtrack) was also released shortly after the premier of Season Two, and features "Overkill" from "My Overkill".
The DVD
Main article: The Complete Second Season DVD
The complete second season was released onto DVD in region one on November 15, 2005. The three disk set includes all 22 episodes, plus the following special features:
A Rare Condition - Behind the Scenes of Season Two
Johnny C. Keeps Talking - a one on one interview with John C. McGinley
Alternate Lines, A Second Opinion
Stunt Casting - about casting for stunts
Secrets and Lies - a featurette about gossip, jokes and stories on the set
The Musical Stylings - music featurette
Practice, Practice, Malpractice - outtakes
Scrubbed Out - deleted scenes
J.D.'s Imagination Gone Wild - interviews of the cast about the dream sequences
J.D.'s Mojo - J.D.'s relationships in Season Two
Commentaries with the cast and creators on "

My Overkill

", "

My Case Study

", "

My First Step

", "

My Sex Buddy

", "

His Story

", and "

My T.C.W.

"
Trivia
After the conclusion of season two, NBC ordered a Funniest Moments Special to highlight moments from the first two seasons. It is not found on the DVDs.
Although he appeared in every episode of Season One, Neil Flynn was not added as a main cast member until Season Two.
See Also
Community content is available under
CC-BY-SA
unless otherwise noted.