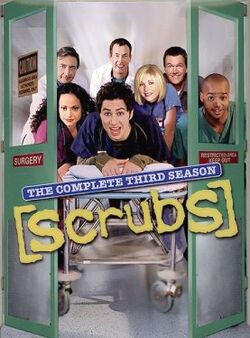 Season Three of Scrubs originally aired from October 2003 to May 2004 on NBC. It averaged 10.41 million viewers per episode and received two Emmy nominations. It is available on DVD in regions 1, 2, and 4, and episodes are syndicated in most major markets.
Story
It's a whole new year for the staff of Sacred Heart Hospital as Elliot undergoes a complete makeover in an attempt to change her luck and the residents discover the incredible healing powers of an epiphany toilet. J.D. and Elliot test the waters again to see if they have a future together, while Turk and Carla get married. All the while, Dr. Cox must contend with everyone around him, including Dr. Kelso and Jordan, and the Janitor keeps up his old habit of making J.D.'s life tough.
Elliot, frustrated with her personal life and with being overlooked at the hospital, gets a makeover that helps her self esteem and meets back up with an old flame, ("My Own American Girl") which makes J.D. jealous. ("My Journey") Days later, the three residents get their own interns to mentor and approach them with different teaching styles. ("My White Whale") J.D. begins to feel like a fifth wheel to his friends ("My Lucky Night") and is further frustrated when his older brother visits him again. ("My Brother, Where Art Thou?") Turk meets Carla's brother and the two don't get along, while J.D.'s fortunes change when he begins dating Jordan's sister. ("My Advice to You") Meanwhile, Dr. Kelso becomes deaf temporarily and everyone takes advantage of it to insult him. ("My Fifteen Seconds") The three friends each have their own experiences with being called "doctors" rather than "residential students." ("My Friend the Doctor") Elliot continues to struggle with talking about private parts ("My Dirty Secret") and dealing with sexual situations with patients. ("My Rule of Thumb") J.D. and Elliot have a rough couple of days when Danni breaks up with J.D. after their long relationship and Elliot's new look brings her problems with coworkers. ("My Clean Break")
A very talented doctor, Kevin Casey, visits Sacred Heart, and everybody likes him until he begins to outshine all of them. ("My Catalyst") Dr. Casey overcomes some of his fears, while J.D. is upset that Turk asks his brother to be his best man at his wedding. ("My Porcelain God") Ben Sullivan's return to the hospital brings bad news, ("My Screw Up") which upsets Dr. Cox severely. ("My Tormented Mentor") After J.D. and others talk about fate's role in their careers, ("My Butterfly") Carla's old crush returns to Sacred Heart, and Elliot turns out to be terribly wrong while diagnosing a patient. ("My Moment of Un-Truth") Turk worries about finally committing to marriage, while J.D. attempts to win Elliot back. ("His Story II") After short flings (Danni/J.D. and Sean/Elliot), ("My Choosiest Choice of All") they become a couple again. ("My Fault") J.D. realizes he only wants what he can't have and publicly dumps Elliot. ("My Self-Examination") Turk and Carla get married and leave to enjoy their honeymoon, but Elliot and J.D. are at odds worse than ever before. ("My Best Friend's Wedding")
Cast
Main Cast:
Supporting Cast
Guest Cast
Awards
The third season was nominated for the following Emmys:
Outstanding Single-Camera Picture Editing for a Comedy Series
Outstanding Writing for a Comedy Series
Episodes
Music
The third season of Scrubs, known for including hit songs, includes music from U2, Journey, REM, Matthew Sweet, Enrique Iglesias, Stroke 9, Coldplay, Counting Crows, Josh Radin, Avril Lavigne, Rhett Miller and many more.
The DVD
The complete third season was released onto DVD in region one on May 9, 2006. The three disk set includes all 22 episodes, plus the following special features:
Audio commentaries with cast members, Bill Lawrence, and writers on "His Story II", & "My Self-Examination"
Three "Supersized" episodes ("My Lucky Night", "My Catalyst" and "My Porcelain God") that are approximately 6 minutes longer than originally aired
Scrubbed Out - Deleted scenes
Gag Reel
Alternate Lines: A Second Opinion
Twist and Shoot - First-time directors
Don't Try This at Home - Stunts featurette
Long Term Residents - Behind season three's unforgettable guest star appearances.
What's Up Dawg? - Dogs of the cast and crew
Is There a Doctor in the House? - Extended cast interview
The New Elliot - Watch her character go from pushover to knockout
J.D. and Elliot love saga featurette
One-On-One with "The Todd"
See Also
Community content is available under
CC-BY-SA
unless otherwise noted.