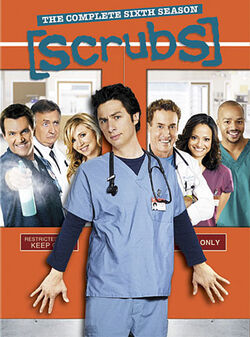 Season Six of Scrubs originally aired between November 2006 and May 2007 on NBC. It averaged 6.41 million viewers per episode, and received five Emmy nominations. It is available on DVD in regions 1, 2, & 4; and episodes are syndicated in most major markets.
Story
As J.D. confronts the realities of his relationship with Kim, he is surprised when she gets pregnant. Turk and Carla have a child, and Carla questions if she should return to Sacred Heart. Things get pretty serious between Elliot and Keith, leading them on an emotional trip. Dr. Cox and Jordan have another child, and Dr. Kelso continues to manage the hospital with an eye for budget and a knack for argument. On top of their personal lives, the doctors and staff of Sacred Heart must manage handfuls of patients and cases which get as wacky as a woman who hears music and the Janitor's prankish ways.
J.D. comes to grips with the fact that he is going to be a father but can't find anybody to listen to him complain. ("My Mirror Image") J.D. and Kim debate what they should do with their baby, but when Carla gives birth to Isabella Turk they decide to have it. ("My Best Friend's Baby's Baby and My Baby's Baby") As Carla decides to take a year off work to take care of the new baby, Dr. Kelso opens a Coffee Bucks to raise extra money. ("My Coffee") Elliot decides to make a career move to private practice ("My House") and Dr. Cox and Dr. Kelso become extremely upset with her for selling out. ("My Friend with Money") A woman who thinks that everybody is singing is brought in to Sacred Heart, and the doctors must try to solve why she hears music. ("My Musical") When a soldier is checked into Sacred Heart, Dr. Kelso contemplates his days in the navy as the staff debates the Iraq War. ("His Story IV") J.D. and others take a road trip to see Kim's first ultrasound, but she tells him that she miscarried. ("My Road to Nowhere") After a DUI, J.D. is taped to the ceiling and realizes that the whole world does not revolve around him. ("My Perspective") During his month's probation from driving, he learns that small progress is still progress. ("My Therapeutic Month") The staff takes the time during a slow night to remember their favorite parts of the past six years. ("My Night to Remember")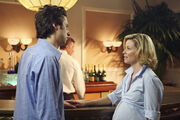 When Private Brian Dancer attempts suicide, he takes the doctors' lecture and reflects it on themselves. ("My Fishbowl") Dr. Kelso, concerned about the budget, only orders ugly brown scrubs to punish theft. ("My Scrubs") After a day full of debating about the existence of God, Laverne gets injured in a car crash. ("My No Good Reason") She is in an unresponsive coma and the staff say their goodbyes before she passes away. ("My Long Goodbye") After her funeral, the staff take the minister's advice in different strides into their lives. ("My Words of Wisdom") Ted helps the nurses retaliate against Kelso, Jordan toys with Elliot's relationship, and Todd contemplates a questionable surgery. ("Their Story") While her college friend is in town, Keith proposes to Elliot, ("My Turf War") which leads J.D. to become quite jealous and desiring of Elliot. ("My Cold Shower") At a medical convention, J.D. runs into Kim again who is still carrying their baby. ("My Conventional Wisdom") While battling with his inner conscious, J.D. decides to get back together with Kim for the sake of the child, ("My Rabbit") but during an intimate moment he and Elliot question their relationships and nearly kiss. ("My Point of No Return")
Cast
Main Cast:
Supporting Cast
Guest Cast
Awards
Scrubs was nominated for five Emmys in its sixth season:
Episodes
Music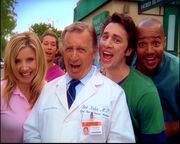 In addition to the original songs from "My Musical", the sixth season of Scrubs includes music from OK Go, Lifehouse, Billy Ocean, Spoon, Aces, The Coral, The Churchills, Say Anything, and many more.
The DVD
The complete sixth season of Scrubs was released onto region one DVD on October 30, 2007. The three disc set contains all 22 episodes, and the special features:
My Making Of: "My Musical": The cast stars in a musical episode with songs written by Tony Award-Winning composers. See it all - from rehearsals to the full-blown spectacle.
Judy Reyes Keeps Talking: The actress behind Carla Espinosa reveals her inspirations and secrets of the event-packed season
Scrubbed Out: Deleted scenes
Alternate Lines: A second opinion
Practice, Practice, Malpractice: Outtakes (as advertised on box, but not actually on the disc)
Audio Commentaries
A hidden Easter Egg with Bill Lawrence and Randall Winston, giving hints about plot points in Season Seven.
See Also
Community content is available under
CC-BY-SA
unless otherwise noted.