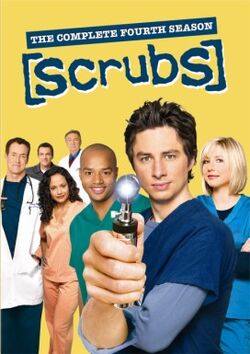 Season Four of Scrubs originally aired from August 2004 to May 2005 on NBC. It averaged 6.9 million viewers per episode and received four Emmy nominations. It is available on DVD in regions 1, 2, and 4, and episodes are syndicated in most major markets.
Story
When Turk and Carla return from their honeymoon, things are still rough between J.D. and Elliot, whom he recently embarrassingly dumped. A new doctor, Molly Clock, arrives at Sacred Heart, and everybody likes her. ("My Old Friend's New Friend") J.D. and Elliot compete for the title of Chief Resident and are named co-chiefs. ("My Office") Dr. Cox and Jordan find out they're actually still married and get divorced again. ("My New Game") Everybody nervously remembers patients they have killed when Dr. Cox gives a frightening speech to the new interns, ("My First Kill") and shortly after, Elliot decides to follow Molly around as her mentor. ("Her Story") J.D.'s brother, Dan, comes to visit and shares the sad news that their father has died. ("My Cake") Dan stays in town and starts a relationship with Elliot, which upsets J.D. ("My Common Enemy") As Molly leaves town, J.D. and Elliot stop fighting when Elliot gets even. ("My Last Chance") A malpractice suit strikes a nerve with Ted and the rest of the staff when the notorious lawyer Neena Broderick becomes involved. ("My Malpractical Decision") J.D. likes her aggression and begins dating her, but he breaks it off when her client sues Turk. ("My Female Trouble") Elliot encounters problems when she finds out that flirting is an excellent way to get what she wants, while J.D. has trouble convincing a man to give his father a kidney. ("My Unicorn") When Christmas rolls around, the staff remembers their best moments at Sacred Heart, from medical to personal. ("My Best Moment")
Turk has reached an understanding with his diabetes treatment, while J.D. and Elliot are becoming more friendly due to their shared office. ("My Ocardial Infarction") Dr. Cox gets a vasectomy but isn't happy with his decision, while an Irish man helps show J.D. and Turk how to live life. ("My Lucky Charm") Soon after, J.D. meets Kylie and can't decide whether to tell her that her boyfriend has an STD. ("My Hypocritical Oath") J.D. sparks a SARS scare and Sacred Heart is put on lockdown — during his first date with Kylie. ("My Quarantine") An E. coli scare floods the hospital with nervous civilians, and J.D. contemplates how life would be if he lived in a sitcom. ("My Life in Four Cameras") J.D. is kicked out of the apartment by Turk and Carla, but they find out that he is unfortunately an important key to their relationship. ("My Roommates") Turk starts to talk to an old girlfriend of his, which makes things rocky between him and Carla. ("My Best Laid Plans") J.D. and Elliot try to help them figure out what needs to happen for their marriage to succeed. ("My Boss's Free Haircut") J.D. and Carla drunkenly kiss, which only makes things more difficult for Turk. ("My Lips Are Sealed") J.D. moves out for good when he becomes the subject and middleman of an argument between the newlyweds. ("My Big Move") They begin attending couples therapy, and Elliot is poorly advised by Dr. Cox when she meets Jake, whom she is interested in. ("My Faith in Humanity") When Turk tells Dr. Cox that he doesn't like to brag, Dr. Cox pushes his ego until it breaks and he finally brags. ("My Drive-By") Elliot finds a new job, J.D. replaces Turk as his best friend with Hooch, Jordan gets a full-time job at Sacred Heart, and J.D.'s fourth year comes to a close.
Cast
Main Cast:
Supporting Cast
Guest Cast
Awards
The fourth season was nominated for the following Emmys:
Won: Outstanding Multi-Camera Picture Editing for a Series
Outstanding Lead Actor in a Comedy Series - Zach Braff
Outstanding Multi-Camera Picture Editing for a Series - "My Life in Four Cameras"
Outstanding Casting for a Comedy Series
Episodes
Music
The fourth season of Scrubs includes songs from Beck, Cary Brothers, Dido, Jet, Tart, The Mavericks, Foo Fighters, a-ha, Fountains of Wayne, and Howie Day.
The DVD
The complete fourth season was released onto DVD in region one on October 10, 2006. The three disk set includes all 25 episodes, plus the following special features:
Audio Commentary with cast members on "My Last Chance" and "My Life in Four Cameras"
One "Supersized" episode ("My Old Friend's New Friend") that is approximately 3 minutes longer than originally aired
The Sweethearts Of Sacred Heart — In-depth interviews about the romantic entanglements and flirtations of the Scrubs characters
Secondary Characters — Get to know the secondary cast members and their roles
Who's That Man? — A look at the mysterious character The Janitor
Scrubbed Out - Deleted Scenes
Donald Keeps Talking - An extended sit-down interview with actor Donald Faison
The Weapons Chest - Spend some time with the show's "second squad" of actors
Alternate lines: A Second Opinion
Music video by G Tom Mac: "Half"
See Also
Community content is available under
CC-BY-SA
unless otherwise noted.