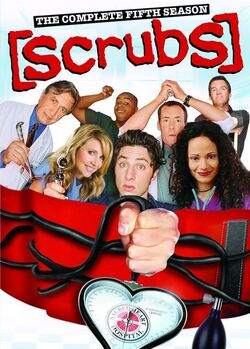 Season Five of Scrubs originally aired between January 2006 and May 2006 on NBC. It averaged 6.4 million viewers per episode, and received one Emmy nomination. It is available on DVD in regions 1, 2, & 4; and episodes are syndicated in most major markets.
Story
J.D.'s, Elliot's and Turk's fifth year at Sacred Heart brings exciting events and original people. New interns arrive, one of whom becomes the love interest of Elliot, and the rival of J.D.. Emotions must be kept separate if professional relationships are to be sustained. The existence of a urologist at Sacred Heart becomes very important to J.D., as his relationships with mentors get put into perspective. Turk and Carla try to have a baby, while Dr. Cox and Jordan focus on their own family. Dr. Kelso and Janitor continue to play by their own rules, often to the dismay of their co-workers.
Now an attending physician, J.D. is proud to welcome a new group of interns to Sacred Heart, and Elliot transfers to another hospital on a fellowship grant. ("My Intern's Eyes") J.D. wants his interns to like him, so tries to form personal relationships with every one of them, despite Dr. Kelso's warning. ("My Rite of Passage") J.D. soon realizes that despite being a doctor, he hasn't accomplished much in his life so he runs a marathon. ("My Day at the Races") Because Elliot's fellowship ended early, she continues to work at a free clinic without receiving help from her friends. ("My Jiggly Ball") Turk and Carla begin to see marital problems and use Elliot as a buffer while Jack Cox gets baptized. ("My New God") When a very nice patient, Mrs. Wilk, is admitted, J.D. and Cox battle to be her doctor. ("My Missed Perception") J.D. is paged to Sacred Heart on his day off, and is constantly distracted from making his way home, in an homage to the Wizard of Oz. ("My Way Home") He soon begins a personal quest to have a patient thank him for doing his job. ("My Big Bird") J.D. is smitten by Julie Quinn on a blind date and buys a half-acre in an attempt to be more mature. ("My Half-Acre") Carla becomes increasingly more obsessed with getting pregnant, and gets a fertility test. ("Her Story II") Elliot begins sleeping with Keith, who soon becomes J.D.'s least favorite intern. ("My Buddy's Booty") His favorite intern, however, is struggling with medicine. ("My Cabbage")
As Mrs. Wilk nears death, Dr. Hedrick helps J.D. and Dr. Cox cope with death. ("My Five Stages") Dr. Cox is named the city's best doctor, but hits a wall while diagnosing a patient. ("My Own Personal Hell") J.D. gets in hot water when he offers to shave his head for a patient about to enter chemotherapy. ("My Extra Mile") Turk makes a huge discovery about Carla, and J.D. struggles to keep the secret. ("My Bright Idea") Dr. Kelso's dog Baxter dies and Carla helps him deal with the staff's requests. ("My Chopped Liver") Always wanting to make people happy, J.D. takes an obese patient's case and gets upset when he realizes he has to take him to the zoo for treatment. ("My New Suit") Janitor locks J.D. away for an entire day, and spends his time talking to a patient who can't communicate. ("His Story III") J.D. and Dr. Cox meet Jill Tracy at the grocery store, and she soon passes away at Sacred Heart. Complications from her death kill three other patients ("My Lunch") and Dr. Cox takes to drinking, blaming himself for their deaths. ("My Fallen Idol") He returns to work, and J.D. sees that things run in cycles. ("My Déjà vu, My Déjà vu") J.D. meets Kim at the bar and they hit it off and begin dating. ("My Urologist") His world is turned on its head when she reveals that he has impregnated her. ("My Transition")
Cast
Main Cast:
Supporting Cast
Guest Cast
Awards
The fifth season won the George Foster Peabody award. The press release specifically noted the episode "My Way Home", directed by Zach Braff. It was also nominated for one Emmy for Outstanding Comedy Series.
Episodes
Music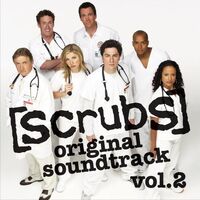 The fifth season of Scrubs includes songs from Jet, Keane, Men Without Hats, Toto, Israel Kamakawiwo'ole, Loverboy, Five for Fighting, Boston, Pearl Jam, Ben Folds, The Fray, and many more. Scrubs, Volume 2 (Soundtrack) was also released May 9th, the day "My Déjà vu, My Déjà vu" aired.
The DVD
The complete fifth season was released onto DVD in region one on May 22, 2007. The three disk set includes all 25 episodes, plus the following special features:
See Also
Community content is available under
CC-BY-SA
unless otherwise noted.