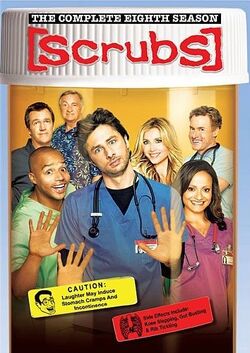 Season Eight of Scrubs originally aired between January 2009 and May 2009 on ABC in 720p High Definition. It averaged 5.61 million viewers per episode, and received one Emmy nomination. It is available on DVD in regions 1, 2, and 4; Blu-ray in region A, and episodes are syndicated in most major markets.
Story
As J.D. learns how to treat the newest batch of interns, including the harsh Denise, the suck up Katie, and lazy Ed, Sacred Heart temporarily gets used to the new Chief of Medicine Dr. Taylor Maddox. Meanwhile, Dr. Kelso gets used to retired life at Coffee Bucks.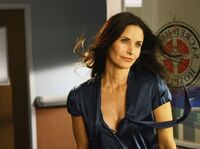 On the day that
Taylor Maddox
the new Chief of Medicine arrives at Sacred Heart,
Janitor
gets fired and
Elliot
finally apologizes for being insensitive to
Keith
.
("

My Jerks

")
J.D.
and
Turk
set aside a tradition to help a patient who insists he doesn't need their help.
("

My Last Words

")
The entire staff at Sacred Heart tries to get Dr. Maddox fired, but they must turn to an old
employee
.
("

My Saving Grace

")
Shortly after, J.D. and Elliot rethink their relationship, and J.D. takes the initiative to start it back up despite what others might think.
("

My Happy Place

")
As the new interns start to show their true colors, the entire hospital starts to get a little nervous due to the lack of a Chief of Medicine.
("

My ABC's

")
("

My Cookie Pants

")
When
Dr. Cox
takes the position of Chief of Medicine, at first he tries to do everything required of his new job, plus see some patients, but he soon learns that he has too much on his plate.
("

My New Role

")
("

My Lawyer's in Love

")
Dr. Cox finally gets a couple of days to relax around the hospital without being bothered by J.D.
("

My Absence

")
and when he returns, J.D. organizes a comedy sketch show which ends up making him and Turk feel self conscious.
("

My Comedy Show

")
Life at Sacred Heart is seemingly normal and calm, and soon both
Dr. Cox
's and
Jordan
's relationship and
Janitor
's and
Lady
's relationship flourish.
("

My Nah Nah Nah

")
The new interns learn by trial and error that they don't know everything, but that it doesn't hurt to speak your voice and be heard.
("

Their Story II

")
As Elliot and Turk compare the new interns experiences with those of their own, Elliot ends up making a decision that she would not remain a doctor if she got married, because the emotional toll of telling people bad news sticks with her, long after the patients move on.
("

My Full Moon

")
When Janitor invites everyone to his wedding in the Bahamas on short notice, J.D. rallys them all to attend, but all the couples who attend end up getting in fights.
("

My Soul on Fire, Part 1

")
The couples resolve their arguments as they witness the still unnamed Janitor get married to Lady. J.D. also professes to Elliot that he loves her over Turk.
("

My Soul on Fire, Part 2

")
The same time that Turk gets named Sacred Heart's new Chief of Surgery, J.D. decides to move closer to his son
Sam
.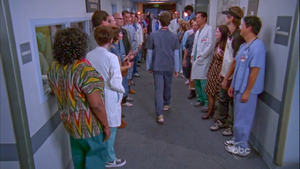 ("

My Cuz

")
J.D. is offered a job at Kim's
hospital
and decides to leave Sacred Heart, a decision which only Elliot and Carla support.
("

My Chief Concern

")
J.D. works during his last day at Sacred Heart and expects a grand farewell from everybody. He realizes he needs to spend time looking to the future, and believes that his fantasies of love and friendship may come true.
("

My Finale

")
Cast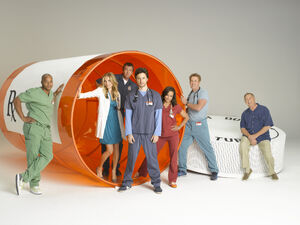 A way for ABC to cut costs for the eighth season is for the main cast to be absent in 3 episodes apiece (Zach Braff and Sarah Chalke only miss two episodes).
Main Cast:
Supporting Cast
Guest Cast
Awards
This season received one Emmy nomination, for the episode "My Jerks"; Outstanding Sound Mixing For A Comedy Or Drama Series (Half-Hour) And Animation.
Writer Aseem Batra received an Humanitas Prize for the second episode of the season "My Last Words". This is the third Humanitas Prize Scrubs has won.
Episodes
Music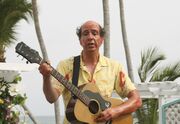 The eighth season of Scrubs continued in the fashion of the previous seasons and contained new and hit songs, including works from Death Cab for Cutie, Grand Archives, Joshua Radin, Outkast, Ziggy Marley, Red Hot Chili Peppers, Ben Lee, and Peter Gabriel.
The DVD & Blu-ray disc
The complete eighth season was released onto DVD on August 25, 2009. The three disk set includes all 18 episodes in 4:3 aspect ratio, plus the following special features: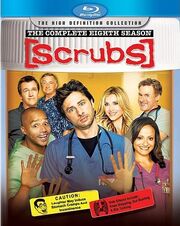 The Blu-ray set was released on November 17th, 2009. The two disc set includes all 18 episodes in 16:9 aspect ratio 1080p HD, plus the special features listed above and a Blu-ray exclusive feature:
It's All In The Name - A montage of the hilariously humiliating names Dr. Cox has called J.D. during their eight years at Sacred Heart.
Season Play
Trivia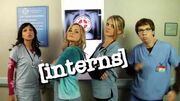 Bill Lawrence has stated that each character had to take a couple episodes off, due to the requirement to produce the show more cheaply, at ABC's request.
This is the first season in which J.D. doesn't appear in every episode.
During this season, webisodes of Scrubs: Interns premiered simultaneously online. They showed the point-of-view of the new interns.
See Also
Community content is available under
CC-BY-SA
unless otherwise noted.