Sean Kelly was Elliot Reid's boyfriend and is currently dating Kim Briggs. He works at Sea World as a dolphin trainer.
Character History
Patient at Sacred Heart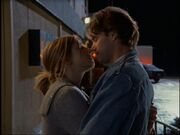 Sean met Elliot when he was her patient during her first year. He was admitted due to an irregular heartbeat, but after further testing he was released because they found nothing wrong with him. Elliot was upset that he didn't ask her out when she was giving him so many clues. After pretending to be more confident, she demanded that he ask her out, which he did. Carla noted to herself that they were perfect together because they are both loopy. ("My Way or the Highway") Later, Elliot had to dump Sean because her career was too demanding, and she needed to focus on work rather than her personal life.

Reuniting with Elliot
Elliot ran into Sean again at a smoothie shop and made a fool of herself in front of Sean and his girlfriend. Sean left his girlfriend for Elliot, and the two began dating again. ("My Own American Girl") Sean noticed that even though Elliot had a makeover, things at the hospital weren't really different for her - she was still a slave to her job. After missing a date with Sean, he was prepared to leave her again, but Elliot promised that she would choose him over her job whenever it was her choice. ("My Journey") A few days later, Sean takes a job in New Zealand that will put him far away from Elliot for six months, so they break up. Distraught, Elliot races to the bus depot to ask him to make the relationship work long-distance, but the bus drives away. He comes back, though, and the two resolve to make the long-distance romance work. ("My Lucky Night")
Return from New Zealand
While Sean was away, a patient makes Elliot realize that it is more important to have someone who is always there for you. She realizes that J.D. has always been there for her and sleeps with him. After getting a bad feeling from a phone call, Sean returns from New Zealand, arriving minutes after Elliot and J.D. have sex, and she decides to get back together with him. ("His Story II") Things between him and Elliot were going great, with him even helping Elliot get over her aversion to using slang to refer to private areas ("My Dirty Secret"), but he sensed there was something different. He asked J.D. if anything happened, and J.D. said that nothing occurred, lying to protect Elliot and Sean's relationship. ("My Choosiest Choice of All") Later, he and Elliot plan to move in together, but Elliot breaks off their relationship after J.D. tells her about his own feelings for her. ("My Fault") After Elliot dumps him, Sean lets himself go, growing a beard and living like a homeless man on the sidewalk outside his own apartment building. J.D. (who breaks Elliot's heart by dumping her just four days after she chose him over Sean) later attempts to make things right by bringing Sean to see Elliot at Carla and Turk's wedding reception, but Elliot isn't sure whether she dumped Sean because she had feelings for J.D. or if she was scared to move in with him. In the end, she decides that they can't start over, but wishes him the best. He is Danni Sullivan's designated driver the night of the wedding reception. ("My Best Friend's Wedding")
With Kim Briggs
Elliot introduced Sean to Kim Briggs during her seventh year at Sacred Heart; soon after, he began dating Kim, but he was quite upset upon discovering that Sammy is J.D.'s child. He wanted to sell him on the black market. J.D. and Sean initially were at odds because of pent-up anger and jealousy about Elliot, but they soon came to terms and became "wiener cousins" for sleeping with the same women. He is currently living with Kim and taking care of Sammy when J.D. isn't around. ("My Cuz")
Relationships
Elliot
Sean first met Elliot as a patient at Sacred Heart. ("My Way or the Highway") Sean and Elliot were a good couple when together, but through systematic sabotaging by J.D., she eventually left him. ("My Best Friend's Wedding")
J.D.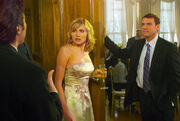 Throughout his relationship with Elliot, Sean is aware that J.D. is in love with Elliot, although he seems to bear him no ill will because of it. J.D. dislikes Sean, hating the fact that Elliot was with another man when he was in love with her. J.D. routinely attempts to ridicule Sean in front of Elliot, Turk and Carla, but these efforts usually backfire.
After Sean returns from New Zealand, he senses that something is wrong with his relationship with Elliot and asks J.D. if anything had happened between the two of them while he was away. Although they had slept together, J.D. choose to lie and told Sean that nothing had happened, putting Elliot's happiness ahead of his own. After Elliot leaves Sean for J.D., J.D. regrets the decision when he realizes he does not love Elliot. J.D. finds Sean and convinces him to come to Turk and Carla's wedding in an unsuccessful attempt to win Elliot back. ("My Best Friend's Wedding")
When J.D. found out that Sean was dating Kim and taking care of Sammy, he was mad. They got over their differences and bonded as "wiener cousins" for both having slept with Kim and Elliot. ("My Cuz")
Turk
Turk and Sean did not interact much, but Turk told Sean that he did not have a problem with him after he stormed out of the room away from Sean with J.D., claiming that he could not resist a good "storm-off". Sean also liked being able to see his own reflection from Turk's head.
Kim
Kim Briggs and Sean were introduced in the period after J.D. and Kim broke up and before J.D. and Elliot got back together. They have been dating now for over a month. Elliot was the one who introduced them. ("My Cuz")
Others
Sean was in another relationship with a girl when he and Elliot ran into each other for the second time. However, he leaves her to get back with Elliot. ("My Own American Girl")

Nicknames
Trivia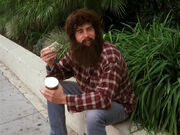 Appeared in