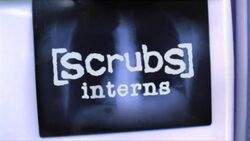 Scrubs: Interns is the webisode series produced by ABC which premiered on ABC.com between January 2009 and April 2009. There are two additional webisodes that were released on the Season Eight DVD and Blu-ray disc.
The webisodes focus on the video diary of Sonja "Sunny" Dey, a new intern for 2008-2009 at Sacred Heart Hospital. Some events correspond with occurrences in Season Eight, and many stories reflect experiences the main characters of Scrubs underwent in Season One.
Story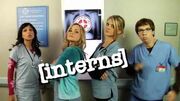 Sunny, a whiz in both Pre-Med and Film, makes a video diary for her mother of her first year at Sacred Heart. She follows herself, Howie, Katie, Ed, and Denise and they learn the ropes at the hospital.
The new interns sit through an orientation led by Ted and interrupted by Dr. Cox. (Our Intern Class) Days later, they sit through a presentation by J.D. about hospital vernacular and slang. (Our Meeting with J.D.) Minutes later, they are summoned to a meeting with Janitor, who schools them on how they need to treat him. (Our Meeting in the Broom Closet) Later, on a day off, Sunny captures Ted and his new lover singing to each other. ("Screw You with Ted and the Gooch"). On another day, Jimmy borrows Sunny's video camera to film a fake talk show. (The Late Night with Jimmy Show) Soon after, Sunny has a meeting with the Brain Trust who want her to film the pilot episode of Legal Custodians. (Our Meeting with the Braintrust) Sunny then shares some of the outtakes from the making of their sitcom. ("Legal Custodian Outtakes") A few days later, Dr. Elliot Reid shares some of her tips on how to talk to patients without sacrificing professionalism. ("Our Bedside Manner") Turk and The Todd share some differences between surgical doctors and medical doctors. ("Our Meeting with Turk and the Todd") Before Sunny has to give her camera to her sister, she records the advice Dr. Kelso gives to her at Coffee Bucks, and her intern friends explaining the most important lessons they've learned. ("Our Final Advice") They also get an earful from Carla about how they should respect the nurses. ("Our Meeting with Carla") Janitor excitedly shares an episode of his sitcom Legal Custodians with Sunny. ("Legal Custodians Episode")
Cast
Category: Scrubs: Interns Cast
Web Episodes
Category: Webisodes
Music
The theme song for the webisodes titled Don't Tell Me is sung by The Worthless Peons. Additionally, Ted and his new girlfriend Stephanie Gooch sing a duet. ("Screw You with Ted and the Gooch")
The DVD & Blu-ray disc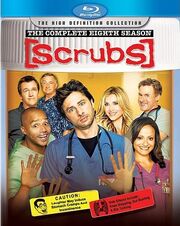 Main article: The Complete Eighth Season DVD & The Complete Eighth Season Blu-ray
All twelve Scrubs: Interns webisodes appear on the The Complete Eighth Season DVD and Blu-ray. The final two webisodes were not available online, and were only available on the DVD and Blu-rays.
Trivia
Many of the ritualistic initiations the new interns go through are similar to those which previous Sacred Heart interns endured.
Judy Reyes is the only regular Scrubs cast member to not appear in an episode of the first ten Scrubs: Interns webisodes. She appears in a webisode that is included on the Season Eight DVD and Blu-ray.
See Also