Sam Thompson is a manipulative and egomaniacal drug addict who was a patient at Sacred Heart Hospital and briefly worked there as a drug counselor.
About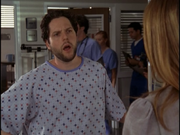 Sam is a drug addict that periodically visits Sacred Heart in an attempt to get prescribed meds. He has conned Dr. Cox in the past. He has attempted, and nearly succeeded, in conning Elliot by continually faking pain and enduring several tests. ("My Moment of Un-Truth") He has successfully conned Jordan out of money. ("My Rite of Passage") He "totally suckered" Carla once.
He claimed that he became clean when he spent time in prison for hitting a cop. He led a group therapy for recovering drug addicts at Sacred Heart. Dr. Cox believed he was still an addict, but Elliot did not. Although he passed a urine test, Dr. Cox discovered that Sam was actually just using the therapy group as a resource to find drugs by having them give him their drugs. ("My Scrubs")
Nicknames
Appeared In
Community content is available under
CC-BY-SA
unless otherwise noted.