"Our True Lies" is the tenth episode of Scrubs' ninth season. Lucy cheats on an exam. Drew tells Denise that he loves her. Turk has trouble treating a patient because she is a lesbian.
Synopsis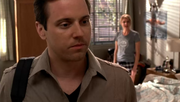 Lucy
In study group, Lucy complains how her family is relying on her to become a doctor, while Cole complains that every one else on his father's side is a doctor. They continue preparing for a difficult exam that Dr. Cox is administering the next day. When the exam time comes, Dr. Cox has Denise proctor the test. He storms in later when he finds a cheat sheet in the bathroom and forces the students who used the bathroom during the exam to stay - Drew, Trang, Maya, Lucy and Cole. He tells them that they all must stay until the culprit admits the truth. Drew calls out Cole who continues to deny the accusation. The gang then asks Drew why he left since he never uses public restrooms, and he reveals that he was calling his divorce lawyer because he is married. They all continue to deny that they cheated, but Cole figures out that Lucy cheated. When she was going to admit to the group, Cole stepped up for her and took the blame, to no one's surprise. Lucy couldn't stand it and revealed to her classmates. She left to go find Dr. Cox to confess, but they miss each other and he arrives at the lecture hall. The class stood up for Lucy and all decided to take the much more difficult make-up exam together so she wouldn't fail.
Turk
Meanwhile, Dr. Kelso tells Dr. Cox and Dr. Turk that technology is hurting the relationships doctors have with their patients, but they ignore his advice. When an extremely beautiful patient, Nicole, is admitted, Dr. Cox asks Turk to handle it because she is a lesbian and he doesn't want any other surgeons harassing her. Todd tags along but can't handle himself. Turk also has problems with finding the correct terminology to refer to Nicole and her partner. Later, Dr. Cox offers her a steroid that will cure her and Turk offers a highly risky surgery. Nicole chooses the surgery to the surprise of the doctors. Kelso reminds them to get to know their patients to understand why, and Turk suggest using the internet. They discover Nicole lost a lot of weight and was afraid the steroids would make her gain it back. They convince her that her health is more important than her weight and that her partner will understand.
Drew & Denise
In the morning before the exam, Drew lets the words "I love you" slip to Denise. After denying it, he affirms his decision and lets her know that he really loves her. She slams the door on him and is hostile to him during the exam and while waiting for the cheater to confess. Denise confides in Lucy, who tells her that they are a good couple and Denise should invest it in more. Denise then overhears Drew say that he is stuck in an old marriage and she storms off. He later tries to explain but she refuses to listen. After giving it some thought, and hearing advice from Turk and seeing how the truth made Nicole happy, Denise told Drew "I love you."
Recurring Themes
     More: Fantasies • Flashbacks • J.D.'s girl names • Janitor's pranks and lies
Fantasies
Dr. Cox keeps the med students and Denise in the lecture hall for so long, that they are now old, except Cole, because he made a deal with a witch.
Flashbacks
Cole sings in the restroom in order to remember the circulatory system.
J.D.'s Girl's Name
Turk's girlfriend, used by Perry Cox because he refuses to goof around with Turk.
Guest Stars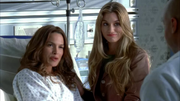 Music
     ♫ List of music featured in Scrubs
"How You Remind Me" by Nickelback (parody performed by Dave Franco)
"Theme From Charles In Charge"
"All My Days" by Alexi Murdoch
Quotes
Trivia
This is the first time another character, Cole, acknowledges Lucy's habit to narrate in her head.
Community content is available under
CC-BY-SA
unless otherwise noted.