"

The worst part is, I had to stay in that room for 17 horse funerals.

"

—

Drew



"Our Thanks" is the thirteenth and final episode of Scrubs' ninth season, and therefore the series finale. Lucy writes a moving speech about her cadaver, but a visit from his son throws a curveball into the mix. Denise and Drew practice living together when a hole in the wall turns their dorms into a suite. Cole realizes he wants to be a surgeon, and a reluctant Dr. Turk tries to convince him otherwise.
Synopsis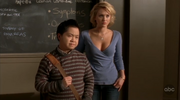 Cole & Turk
While walking through the halls of Winston University, Dr. Cox and Dr. Turk predict what type of doctors each medical student will be like when they are older. They predict Trang will be an OB-GYN and Lucy will be a pediatrician. When Drew walks up to Dr. Cox, Turk tells Perry how jealous he is that he doesn't have a favorite protégé. Later, in the ward of New Sacred Heart, Cole thanks Turk for removing his cancerous mole. Cole then realizes that he wants to be a surgeon, and Dr. Cox eggs him on while Turk tries to make surgery sound dull. But Cole decides to stick with this idea and asks to be Turk's shadow. For the first task, Turk has Cole hold a clamp for as long as he decides. Turk forgets about him and is shocked to find him still holding it several hours later. They then go into the anatomy classroom and Cole successfully removes a fortune from a fortune cookie with tweezers, even while Turk tries to distract him. Finally, Cole is asked to sew a teddy bear together, but he stumbles and Turk tells him that he will never be a surgeon. Turk is glad that he is rid of Cole, but when Drew tells Dr. Cox that Cole is still obsessed with being a surgeon, Perry convinces Turk that he doesn't get to choose who needs his help, but it is his responsibility to give it to him. Turk realizes this, and tells Cole that he should get ready to shadow him for some real work.
Lucy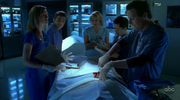 All the while, Lucy is frantically trying to write a speech about Ben Coleman, the cadaver her anatomy group had been using to research. Her other group members aren't interested in helping, so she decides to do it herself. She researches Ben's life and finds many random facts about him, including that he was an excellent bowler and a leader in dry-cleaning. She feels proud of herself until she meets Ben's son Eric, who tells her that he hates his dad and is only there to see him put in the ground. After she yells at Ben's corpse, Denise tells her that Ben may have been a sucky dad, but he was a good cadaver. At the Ceremony of Thanks, Lucy gives her speech highlighting not Ben's life, but the fact that he helped her education and friendships at Winston University.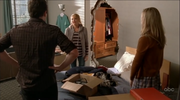 Denise & Drew
Drew, meanwhile, has troubles with Denise. After an awkward conversation where he couldn't tell if she was joking about wanting to get married and have kids soon, he finds a hole in his wall due to a water leak. The hole is as big as a doorway and connects his and Denise's rooms. Reluctantly, he allows Denise to rearrange so it is like they are living together. However, he freaks out and puts up a curtain and moves all of their possessions back. A dejected Denise mopes around, and Drew later takes the curtain down and confesses that rapid changes scare him. He then notices a sledgehammer in Denise's room and finds out that she knocked the hole in the wall so they'd be able to test out living together since she wanted to invite him to live with her the next year. He decides to give it a shot, because he likes their relationship.
Recurring Themes
     More: Fantasies • Flashbacks • J.D.'s girl names • Janitor's pranks and lies
Flashbacks
Other med students organize a drumline to thank their corpse for the ceremony.
Cole frantically tries practicing sutures on Lucy's stuffed horse collection.
Episode Running Gags
A marching band constantly one-ups Lucy's speech.
Lucy spurts out random trivia about Ben's life.
Dr. Cox eggs on Cole's desire to become a surgeon.
Guest Stars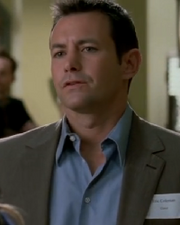 Music
     ♫ List of music featured in Scrubs
"Live And Learn" by The Cardigans
Quotes
"

Alright, and listen up, murderers. As you know, we are approaching the end of the semester. The Ceremony of Thanks is quickly approaching.

"

—

Dr. Cox




"

That's where you publicly thank the friends and families of the cadavers you've been dissecting this semester.

"

— Turk


"

It's actually a pretty sweet deal for them, you see. After their loved ones are stripped for parts like a 1998 Mitsubishi Mirage, we treat them to some free cold cuts and a chance to listen to you regurgitate some trite quotes about their family member's sacrifice that you found on the internet.

"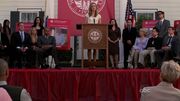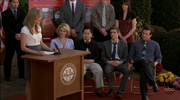 "

I always knew that a surgeon would hook me up with some sweet calf implants or a robot arm, but I never thought one would save my life.

"

—

Cole



"

Dr. T, do you believe in fate? You know, like, the stuff they talk about during the boring parts of

Lost

?

"

—

Cole



"

It's boring and it sucks. It's the complete opposite of a water slide!

"

—

Turk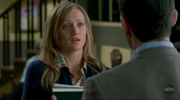 "

Have you been standing here all day?

"

—

Turk




"

I don't know. I can't read old people clocks.

"

— Cole




"

As a vodka tonic.

"

— Cole

"

Do ya realize that for the last eight years I've been saddled with a whiney, clingy lady-man whose very life-force was dependent on hugs?

"

—

Dr. Cox



Trivia
This was the final episode of Scrubs, and the shows series finale, with Turk being the last character seen. His final lines confirm that his and Carla's second child was another girl.

The writers did not intend for it to be a finale, but the full season episode count was not ordered by ABC.

Dr. Cox references J.D. when he is talking about his "whiny lady-man" protégé.
In Dr. Cox's rant referencing J.D., he claims to have been saddled with J.D for the last eight years even though Season Nine is set eighteen months after Season Eight ends.

It's possible he considers J.D. to have 'moved on' by Season Eight.

Clint mentions he's going to see the Eels. The Eels song "Fresh Feeling" had been used in the Season One episode "My Hero".
In the end, Lucy said about Ben "He gave us the confidence to believe in ourselves", and then looked at Cole who smiles back referring to the fact that she had made the right choice about those two going public.
In Lucy's speech about Ben, she says "he taught us that we couldn't do this all on our own," a possible reference to the show's theme.