"Our Histories" is the fourth episode of Scrubs' ninth season. J.D. and Turk refuse to believe they are getting old, even after attending a party in costume. Ted and Gooch leave New Sacred Heart and Dr. Kelso wishes them a farewell. The med students must conduct final interviews before attending a party, and must learn to work as a team.
Synopsis
Maturity
As J.D. and Turk prepare for a fun-filled night by wearing matching t-shirts that read "Bro-A-Palooza 2009", Dr. Cox sees them and pokes fun at them for being old and not realizing it. The two deny it, and continue to talk about their plans for that evening. Dr. Cox then asks Denise to take control of her med students and teach them to work as a team. Denise decides to get them to conduct final interviews with four terminal patients. Dr. Cox gets trapped inside an elevator with Dr. Kelso, Ted, and Gooch. When the elevator breaks down, Dr. Cox climbs out of the top rather than stay inside the elevator and listen to Ted and the Gooch sing fifty songs about all fifty states. He crashes through the ceiling and J.D. spots him. He tells Perry that he doesn't feel old at all, and Dr. Cox invites him to Cole's party under the guise that it is Cowboys and Indians themed. When they arrive at the bar, they feel like fools, however after taking 11 shots of soda, J.D. and Turk dance the night away. Perry asks Cole who the five lamest people in the bar are, and Cole picks Dr. Cox for being old, Ted for being sweaty, Dr. Kelso for being really old, Underhill for looking at his junk in the bathroom, and a stranger who has weird junk (Underhill told him). J.D. and Turk laugh in Dr. Cox's face and resume dancing. J.D. accidentally kicks Turk in the face and Cole moves them up to #1 and #2. They return to the hospital to give Turk stitches. They realize that they are getting old, and Dr. Cox overhears them. He lets them know that being old isn't bad, as long as you have a little more maturity. The two finish their night by watching a movie at home.
Teamwork
Meanwhile, Dr. Cox gets upset that the med students are not acting like a team and only looking out for themselves. Denise attempts to pawn her responsibility of making sure the med students conduct final interviews with terminal patients onto Drew. He refuses, and she ends up confronting both problems by telling the four that they are not allowed to go to Cole's party until all four interviews have been completed. They decide to break up the work and everyone successfully conducts their interviews except for Lucy. Cole flakes off to go to his party, and Lucy continues to struggle with talking to Paul. After deciding to give up and go to the party anyway, J.D. and Turk share their experience with George Valentine and the three students realize that they did not become doctors for their own reasons, but to help people. They go to Paul's room and see Cole talking with him. Lucy, Cole, Drew, and Maya sit and talk to Paul about his time in Korea and how he misses his old war buddies. Lucy realizes that they are like war buddies, having to work as a tight unit to survive. The students arrange for Paul's old friends to meet him at the hospital, and he enjoys one last day with his pals.
Amiability
After falling in love, Ted and Gooch decided to leave New Sacred Heart and travel to see all fifty states. Dr. Kelso wanted to give him a decent farewell after many years of work, so he invites him to the bar for Cole's party. At the bar, Kelso gets drunk and gives Ted a less-than-adequate farewell. The next day, as Ted is leaving the hospital, a large group of doctors stop him and wish him farewell. The doctors scatter and Kelso wishes him a personal goodbye before he leaves the hospital for good.
Recurring Themes
     More: Fantasies • Flashbacks • J.D.'s girl names • Janitor's pranks and lies
Fantasies
Lucy: Cole, Drew, and Maya grab Lucy and throw her under a bus.
J.D.: J.D. and Turk are hoisted in the air as if it were their Bar Mitzvah.
Lucy: Her fellow med students and her are war buddies fighting in a battle.
Flashbacks
Drew does his community service by visiting prison dressed in a dinosaur costume.
Episode Running Gags
Cole will not touch bread, but instead uses medical instruments to handle it.
Dr. Cox gets a thesaurus as a gift from his nephew, and uses it to call J.D. and Turk "miserable, pitiful, sorrowful, wretched, deplorable, regrettable or sad" and then uses it to call the med students "butcherers, murderers, slaughterers" and "slayers."
Dr. Cox tells Denise to not let the med students touch his donut because it is the "the one sprinkled, sugary beacon of light left." Denise sarcastically relays this message to Drew (who took the donut) and tells him to "not touch donuts. They're beacons of light or whatever."
Gooch has written a song for each of the fifty states and sings them in alphabetical order, singing Alabama and Arkansas before the opening sequence, and later sing the last state Wyoming.
Ted makes sexist remarks about Gooch, and claims that Kelso brings it out of him.
J.D. declares that he will make pepper jack quesadillas for his and Turk's "Bro-A-palooza" and gives a block of pepper jack cheese to Denise while he takes the med students to do the final interviews. After they leave a patient's room J.D. sees that Denise has opened the cheese and is eating it. Later J.D. is seen sleeping with the cheese on his chest after eating quesadillas.
Lucy thinks her new dress makes her boobs look even. Denise thinks they look "weird."
J.D. wears chaps with his Indian costume. Turk finds it ridiculous, but Duncook thinks that the look works.
Dr. Cox takes pictures of J.D. and Turk with his cell phone.
Use of the song The Final Countdown first by the Med Students then later to play Ted out by The Gooch.
Duncook & Underhill story
Duncook and Underhill work security at the bar for Cole's party. They also tell J.D. and Turk that they provide all forms of security, and have a salsa making venture. Dr. Kelso states that their salsa is quite good.
Guest Stars
Music
     ♫ List of music featured in Scrubs
"Where The Music Takes You Away" by Ari Gold
"Coexist (Pat and Jim Radio Mix)" by Guy B
"Keep Talking" by Kurt Farquhar
"For Your Love" by Marching Band
"The Final Countdown" by Europe (performed by Dave Franco, Kerry Bishé, Michael Mosley, and Nicky Whelan)
"The Final Countdown" by Europe (performed by Kate Micucci)
Quotes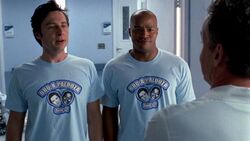 "

That's not my drink.... It's good though.

"

—

Dr. Kelso



"

Oh, what up nerds?! Hey, this Paul dude is awesome. He nailed... Marilyn Monroe!!

"

—

Cole




"

Oh no. It was actually Marilyn MONTROSE.

"

— Paul


"

Same diff. Chicks named 'Marilyn' are hot!

"

—

Cole



"

I really hate talking to that guy; that's an extra shower to my day.

"

—

Dr. Denise Mahoney



"

I can't believe it's been twelve years since we started medical school.

"

—

J.D.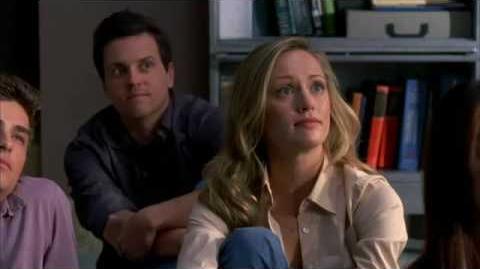 "

We're getting old, Kemosabe.

"

— Turk

"

I 'faculty-advised' the hell outta you guys.

"

—

Denise



"

You know, when ya spend the hardest time in your life with a group of people... you're bonded forever.

"

—

Paul



"

Uh, I see with your wives out of town you've whipped yourself into a lesbian frenzy. What, do I need to get a garden hose to separate you two? There's nothing wrong... with getting older. So do yourself a favor: get a prostate exam, stop wearing ironic t-shirts and just... let it happen.

"

—

Dr. Cox



Trivia
The patient J.D. and Turk talk about skipping steak night for was George Valentine in the Season Eight episode "My Last Words".
Ted says he has worked for Dr. Kelso for only 8 years. This is not true, as he began working at Sacred Heart long before J.D. and Turk were interns, although when Dr. Kelso became Chief of Medicine is unclear.
Elliot Reid and Carla Espinosa are both mentioned in this episode. Turk mentions them both and says about Carla "long gone and took the kids".
Error: Gooch and Ted do not sing the state songs in alphabetical order since Alaska and Arizona come before Arkansas.
Continuity error or sight gag: At the end, when everybody says good bye to Ted, Colonel Doctor is in the crowd. But a few seconds later, he can be seen walking behind Ted in the background.
In this episode it is revealed Dr. Cox has a nephew, presumably from his sister Paige Cox or ex-sister-in-law Danni Sullivan.
Ted takes with him the bust gifted to him by Dr. Kelso in "My Five Stages", similar to how Dr. Kelso took his portrait in "My Dumb Luck" and Coffee Bucks table in "My Finale".

Sam Lloyd was not, however, allowed to keep the bust.

This is the last episode of Scrubs to feature Manley Henry (Snoop Dogg Attending), seen wishing farewell to Ted. However, even though uncredited, he does appear once more in Our White Coats, in the background, after Cole is locked in the broom closet.