"

The key to leading the group is Trang. You gotta get in that little bastard's face and you gotta let the crazy out. You wanna see how I do it. YOU BACK THE HELL UP RIGHT NOW OR I WILL WATCH YOU DIE AND I WILL LAUGH!!! HAHAHAHA!!!! See? It's easy.

"

—

Drew



"Our Dear Leaders" is the eleventh episode of Scrubs' ninth season. Drew no longer wants to be the leader of his study group, so Dr. Cox assigns the position to Lucy. Turk feels threatened by an internationally renowned surgeon. Denise and Drew avoid each other around the hospital.
Synopsis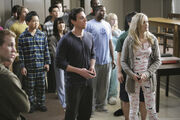 Study group woes
In the anatomy lab, Dr. Cox gleefully comes in and tells the med students that they are about to enter hell week, which is comprised of seven days and six nights of exams, papers, and presentations. Lucy can't handle it because she already thinks every week is hellish. The study group immediately begins to drill Drew for information on how they should spend their time. Frustrated, he tells them that he's tired of being harassed by idiots. Dr. Cox takes him off the group and assigns Lucy the role of leader. As the group begins to study, Trang attempts to take control of the group, and after privately asking Drew for help, Lucy yells at Trang, but it doesn't help. Drew then sneaks in to help the group in the lecture hall, but Dr. Cox catches him and kicks him out. Drew stands up to Perry and decides to help his friends. Dr. Cox knew he would do this all along because he is a good leader. In the end the group put together their presentation for Dr. Cox.
Turk's woes
Meanwhile, Russell Vaughn, an internationally known surgeon, is at New Sacred Heart. He always brings money with him due to his books and popularity. He brags a lot about his life experience, and seems to make everything Turk has accomplished look meaningless. Turk becomes upset and tries to one-up Russell, but eventually it turns into a bitchy telling-off. When Russell takes a patient from Turk, he becomes upset. When the patient sides with him and wants Russell to perform the surgery, Turk nearly loses it. Denise advises Turk to stop being so prideful and help Russell with the surgery.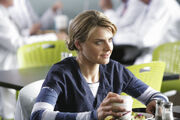 Denise & Drew's woes
Denise and Drew are still awkward after telling each other "I love you". ("Our True Lies") They avoid each other, but Turk tries to make them accelerate the awkward period so they can enjoy each other's company. After hell week is over, Denise does get over her fear of vulnerability and the two share more weird things about themselves.

Recurring Themes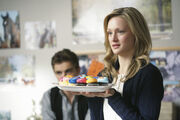 More: Fantasies • Flashbacks • J.D.'s girl names • Janitor's pranks and lies
Flashbacks
Denise's Hell Week was so stressful that she cries in the shower while eating a whole pie.
Episode Recurring Gags
Lucy snaps with power and goes crazy.
Russell Vaughn brags about his world travels.
Denise and Drew awkwardly pass each other in the halls.
Guest Stars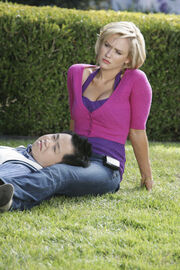 Music
     ♫ List of music featured in Scrubs
"Got to Give it Up" by Marvin Gaye
"No Surprise" by James Yuill
Quotes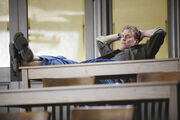 "

Why are you moping around like a tiny girl bitch?

"

—

Denise




"

Wow. Can't you ever be like "hi" or even better "what's up?"

"

— Turk


"

Sure. What's up, tiny girl bitch?

"



Trivia
Eliza Coupe was ill while filming the episode, which is why her voice is hoarse.
J.D. is not mentioned at all in this episode; a Scrubs first.
At one point Lucy mentions that her hero is "the lesbian president from 24," a reference to that show's then-president Allison Taylor. In actuality Taylor was depicted as being heterosexual, although the actress who played her, Cherry Jones, is a lesbian in real-life.
Images
Community content is available under
CC-BY-SA
unless otherwise noted.