"

A hospital can sometimes feel like a magical place, where people's hopes and dreams are often far from ordinary. Whether they're looking for brains... a heart... or courage. As for me, I was just gonna keep on following that yellow line... and hope I'd eventually get back home.

"

—

J.D.



My Way Home is the seventh episode of Scrubs' fifth season, as well as the series' 100th episode. The episode pays tribute to the iconic film The Wizard of Oz when J.D. is called into the hospital on his day off, and attempts to leave to get back home à la Dorothy, Turk needs to convince a family to donate their son's heart, so that Turk can perform the transplant à la Tin Man. Carla realizes that she doesn't enjoy looking after children, and worries about when she has her own, she won't have the courage ie. Lion, while Elliot attempts to come across as an Endocrinology expert, but struggles to do it all from memory à la the Scarecrow.
Synopsis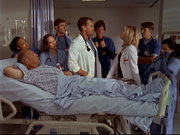 On his day off, J.D. gets called into work by Keith. It turns out that Dr. Cox told Keith to call J.D. to let him see what it's like to be pestered over little things. Laverne's Gospel choir is also present, singing a song called "Payback is a Bitch". J.D. tries to sneak out the hospital to resume his day of leisure, but is caught by Dr. Kelso who wants him to revise an intern schedule. He does so, and once again tries to leave the hospital but is paged by Keith, this time for an urgent matter: a patient sneezed and their post-surgical staples popped out. J.D. continues to try and leave but is pulled aside by Turk and Elliot as they try to solve their own problems. Elliot is basking in the warmth of being seen as a Endocrinology expert to her interns, but in reality she is hiding notes, books, and pages around the hospital with the answers on them. After a rather impressive response diagnosis Dr. Cox realizes something is afoot. He finds her jacket with notes taped inside and signs her up to give a Q&A on Endocrinology that evening. She freaks out and asks J.D. for help. While helping her, he makes Elliot realize that she has been memorizing the information from her notes, meaning she had the 'brains' all along.

Turk and the other surgeons attempt to bribe Dr. Kelso to give them a shot to perform Sacred Heart's first ever heart transplant. Dr Kelso decides that whichever surgeon convinces the Bolger family to take their brain dead son off life support will get to perform the surgery. Turk attempts to lie to Mr. Bolger, but ends up making too obtuse of a lie to be believed. J.D. tells him to be honest and he returns and tells Mr. Bolger that even if he doesn't want Turk performing the surgery that donating his sons' organs is the right thing to do. Later, Turk finds out from Kelso that Mr. Bolger's son agreed to accept his son's wishes and donate his organs, with Turk as the surgeon. Kelso then reveals that Bolger's son carried a donor card meaning Turk had the 'heart' all along.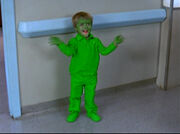 Meanwhile, Carla jumps at the opportunity to look after Dr. Cox's young son Jack as she is looking forward to having a child with Turk. Jordan returns to her office for some peace and quiet, but the thermostat and doorknob break and she is trapped inside, making her sweat profusely and her silicone lips swell. After dealing with Jack for a while, Carla tires of the responsibility and starts to stress out about having children. She leaves him in the care of Janitor. When Perry comes looking for his son, Carla and him find Janitor has allowed Jack to paint himself green. Carla apologizes, revealing that she couldn't handle the stress of the details of being a parent. Perry tells her that he or Jordan normally hate children, but it's different with Jack as he is their child just as it'll be different for Carla with hers. Carla realizes that she had the 'courage' all along.
As the episode ends, while The Worthless Peons practice 'Somewhere Over the Rainbow' the staff put their newfound gifts to good use; Elliot expertly chairs the Q&A, Turk performs the heart transplant and Carla plays with Jack. As for JD, he finally gets his wish and is allowed to go home.
Recurring Themes
Fantasies
Janitor and J.D. talk about Julian, a manatee that lives in a secret network of tunnels under Sacred Heart. The Janitor paints yellow lines down the hospital corridors to show the exits, and blue, green and red lines point to other important areas of the hospital. He is also given Jack Cox by Carla and is forced to look over him, but paints him all green so he looks like the hulk.
J.D.'s Girl's Name
"

Dorothy, finally going home, are ya?

"

—

Dr. Cox



Wizard of Oz references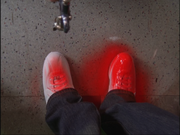 This episode is notable for integrating many references to the Wizard of Oz, including:
Guest Stars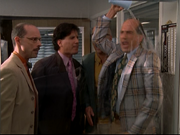 Music
     ♫ List of music featured in Scrubs
Quotes
"

You don't understand. I didn't dump him on the Janitor because I was busy. I dumped him on him because he was working my last nerve and I wanted to smoosh his face.

"

—

Carla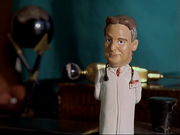 "

J.D., I have to admit this to somebody: I don't like kids!

"

—

Carla




"

What are you talking about? You're the most maternal person I know.

"

— J.D.


"

Well, I'm a nurse, J.D. I'm trained to fake it!

"



"

Did you...eat my mango body butter?

"

—

Elliot




"

No!

"

— J.D.


"

I shmeared it on a bagel

"

— J.D.'s Narration

"

You left my son with a boarderline sociopath who hates everybody?

"

—

Dr. Cox




"

How's that different from leaving him with you?

"

— Carla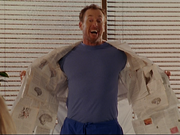 "

Hey you, Where's my son?

"

—

Dr. Cox




"

Oh, he's playing with the birds out on the ledge.

"

— Janitor





"

I'm kidding, come on. He's green.

"



"

Relax! She's only fantasizing cause you don't satisfy her!

"

—

Jordan




[Doug starts hitting J.D., who is in a body bag, with a fire extinguisher]
"

OW! OWWWW! OW!!!! DOUG! Why are you hitting me!?!?

"

—

J.D.




"

'Cause I thought you were a dead guy coming back to life!

"

— Doug


"

Then why were you hitting me?!

"




"

Dead people should be dead!

"



"

Look at me and Jordan. Y'know how we hate everyone? Well, that goes double for children. It's true. They're loud, you can't understand them... They're like tiny cab drivers.

"

—

Dr. Cox



Extended DVD Version
Trivia/Goofs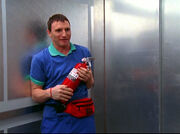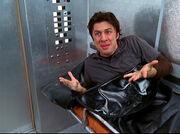 Images
Community content is available under
CC-BY-SA
unless otherwise noted.