"

Elliot Reid. Moment Killer.

"

—

J.D.'s narration



"My Transition" is the twenty-fourth and final episode of Scrubs' fifth season. J.D. worries about making his first date with Kim perfect, while Elliot plans Carla's baby shower. J.D.'s and Jordan's worlds turn upside down when they receive some very surprising news.
Synopsis
J.D. and Kim
J.D. asks Kim Briggs out but begins to panic about where to take her for the perfect first date. He decides on bareback horseback riding across the beach. This takes a turn for the worse when J.D. painfully learns the dangers of a man riding bareback. Fortunately, Kim's specialty is urology, and she helps J.D. with his manly pains, much to his dismay. The date then moves back to the apartment, where they are interrupted by Elliot Reid.
J.D. attempts to ask Kim out on a second date but is once again blocked by Elliot, who has made plans to go to a Neil Diamond concert with Kim. Later, J.D. goes on his first scooter rally, and then, when he is alone for the night, he calls his mother. Luckily, Elliot has a change of heart, and Kim arrives at J.D.'s unexpectedly. The two spend the night stargazing.
Two and a half weeks later, J.D. visits Kim's apartment with flowers, asking for a third date. She reveals that she is pregnant.
Jordan
Elliot plans Carla's baby shower, which is to take place in the cafeteria, while Carla invites people to feel her baby kicking. Jordan and Dr. Cox use the baby shower as an excuse to rid themselves of all their baby gear, as Jack has just completed his potty training. The next day, Jordan finds out that she is pregnant again, despite Dr. Cox's vasectomy and Jordan's fidelity. Later, Carla and Turk visit Jordan and Dr. Cox and discuss the pregnancy.
Recurring Themes
     More: Fantasies • Flashbacks • J.D.'s girl names • Janitor's pranks and lies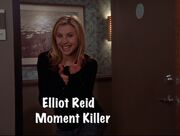 Fantasies
J.D. sees Kim and Elliot communicating at the speed of light and fantasizes about slowing it down so humans can understand it.
J.D. wonders how he can make dinner and go to karaoke in the same night. His solution? Floating Head Doctor. Head is shown singing "Don't Go Breaking My Heart" on stage with Kim.
When Elliot barges in on Kim and J.D., he sees her enter the room as "Elliot Reid: Moment Killer". It happens a second time when J.D. finds out Elliot is taking Kim to a Neil Diamond concert that will preclude Kim from going on a second date with him.
Flashbacks
Dr. Cox and Jordan tape the doctor who botched his vasectomy to a chair and force him to listen to Ted's band sing.
Janitor story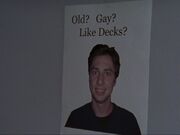 Janitor gives a pet carrier to Turk and Carla. He says it's a baby cage like the one he had as a baby, only better—this one has windows. When he sees that everyone is disturbed, he says he was kidding and that the carrier is for when they buy the baby a puppy. Janitor is later shown on the phone with his mother, complaining about having been in a pet carrier as a baby. He also secretly promotes J.D.'s half-acre as a spot for old gay men, to J.D.'s dismay.
Guest Stars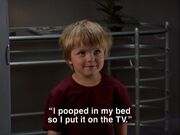 Music
     ♫ List of music featured in Scrubs
"Delirious Love" by Neil Diamond
"America" by Neil Diamond, sung by Turk.
"Love Hurts" by Nazareth
"I Love The Nightlife" by Alicia Bridges
"Why" by Elefant
"Don't Go Breaking My Heart" by Elton John & Kiki Dee, performed by J.D. and Kim in a fantasy.
"New Model" by Emotion Project
"Boy" by Keren DeBerg
"Zoom Zoom Zoom" (Mazda Jingle), performed separately by J.D. and Kim.
"Baby Back Ribs" (Chili's Jingle), performed by The Blanks
Quotes
"

The swelling's gone down... for now.

"

—

J.D.



[Tense moments as J.D. waits for Kim's response. She laughs.]

"

You're an idiot!

"

— Kim

"

Eurgh... I hate cleaning up after those messy old queens. Ooh, appletini! When did they start drinking straight-guy drinks?

"

—

J.D.'s narration



"

I pooped in my bed, so I put it on the TV.

"

—

Jack talking to Dr. Cox



Trivia/Goofs
In the scene where Dr. Kelso tells a story to interns, Rex can be seen with all 10 healthy fingers, despite the fact that he lost one fingertip in "My Own Personal Hell".

It is likely he had the missing fingertip reattached.

While J.D. and Kim are horseback riding on the beach, one shot shows J.D. strapped onto the horse.
When J.D. asks Janitor if he was responsible for "Old. Gay. Like decks?" posters, the poster he holds in his hands changes between shots to "Come chill at my Big Gay Desk !!"
The doctor whom Dr. Cox and Jordan punish is not the doctor who performed the vasectomy in "My Lucky Charm". This one particularly stands out, because at around 6:08 (when Elliot tells Ted to give her money back) you can see the original doctor from  "My Lucky Charm" in the background.
In the baby shower scene, you can see that Carla is wearing a pregnancy suit, a harness with padding to make a larger stomach and larger breasts, under her scrubs. It appears as passable as a salmon colored shirt.
As a test, this was the first episode of Scrubs to be broadcast in High Definition (HD) 1080i in the United States. However, the cost was too high to continue editing in HD, and the decision was made to continue broadcasting in 4:3 Standard Definition. However, from Season Eight on, the show was produced in at least 1080p and broadcast in HD 720p.
The bareback horseback-riding gag is lifted from Donald Faison's previous series, Clueless, where he, in the role of Murray, is the bareback rider.
Images
Community content is available under
CC-BY-SA
unless otherwise noted.