"

Elliot Reid. Moment Killer.

"

—

J.D.'s narration



"My Transition" is the twenty-fourth and final episode of Scrubs' fifth season. J.D. worries about making his first date with Kim perfect, while Elliot plans Carla's baby shower. J.D.'s and Jordan's worlds turn upside down when they receive some very surprising news.
Synopsis
J.D. and Kim
J.D. asks Kim Briggs out but begins to panic about where to take her for the perfect first date. He decides on bareback horseback riding across the beach. This takes a turn for the worse when J.D. painfully learns the dangers of a man riding bareback. Fortunately, Kim's specialty is urology, and she helps J.D. with his manly pains, much to his dismay. The date then moves back to the apartment, where they are interrupted by Elliot Reid.
J.D. attempts to ask Kim out on a second date but is once again blocked by Elliot, who has made plans to go to a Neil Diamond concert with Kim. Later, J.D. goes on his first scooter rally, and then, when he is alone for the night, he calls his mother. Luckily, Elliot has a change of heart, and Kim arrives at J.D.'s unexpectedly. The two spend the night stargazing.
Two and a half weeks later, J.D. visits Kim's apartment with flowers, asking for a third date. She reveals that she is pregnant.
Jordan
Elliot plans Carla's baby shower, which is to take place in the cafeteria, while Carla invites people to feel her baby kicking. Jordan and Dr. Cox use the baby shower as an excuse to rid themselves of all their baby gear, as Jack has just completed his potty training. The next day, Jordan finds out that she is pregnant again, despite Dr. Cox's vasectomy and Jordan's fidelity. Later, Carla and Turk visit Jordan and Dr. Cox and discuss the pregnancy.
Recurring Themes
     More: Fantasies • Flashbacks • J.D.'s girl names • Janitor's pranks and lies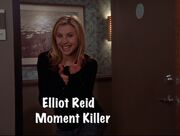 Fantasies
Flashbacks
Janitor story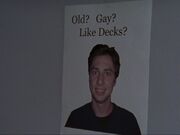 Janitor gives a pet carrier to Turk and Carla. He says it's a baby cage like the one he had as a baby, only better—this one has windows. When he sees that everyone is disturbed, he says he was kidding and that the carrier is for when they buy the baby a puppy. Janitor is later shown on the phone with his mother, complaining about having been in a pet carrier as a baby. He also secretly promotes J.D.'s half-acre as a spot for old gay men, to J.D.'s dismay.
Guest Stars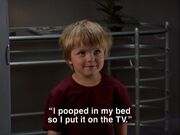 Music
     ♫ List of music featured in Scrubs
Quotes
"

The swelling's gone down... for now.

"

—

J.D.



[Tense moments as J.D. waits for Kim's response. She laughs.]

"

You're an idiot!

"

— Kim

"

Eurgh... I hate cleaning up after those messy old queens. Ooh, appletini! When did they start drinking straight-guy drinks?

"

—

J.D.'s narration



"

I pooped in my bed, so I put it on the TV.

"

—

Jack talking to Dr. Cox



Trivia
Images