"My Screw Up" is the fourteenth episode of Scrubs' third season. Ben Sullivan returns but it is discovered that he hasn't had follow up visits to check up on his cancer for the past two years. It is Jack Cox's first birthday party and J.D. is upset when he finds out his former girlfriend Danni Sullivan, Jordan Sullivan's sister will be attending. Turk and Carla argue over the removal of Turk's mole.
Synopsis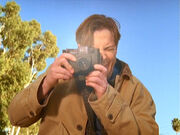 It's
Jack Cox
's (Dr. Cox's and Jordan's son) first birthday and Jordan has decided to throw a first-birthday party for Jack.
J.D.
wants to be invited, but reconsiders when
Jordan
's sister, Danni (with whom he broke up 3 weeks earlier) is attending to help prepare a gathering for the party. Jordan's brother
Ben
has also arrived for the party. After his successful chemotherapy treatments and cancer remission, Ben embarked on a world-wide sightseeing tour with the "World Leukemia Tour" that lasted 2 years.
Cox
chastises him for being out of contact for so long and for not seeing a doctor to check up on his illness, but is happy to see him nonetheless. Ben agrees to let Cox examine him to see if he's healthy or if his leukemia has returned.
Dr. Cox is unable to do the tests himself as he has to bail the juggler for Jack's party out of jail, and forces the task on J.D., who is swamped with taking care of Mr. Taylor, an elderly patient with a mysterious irregular heartbeat. Dr. Cox convinces him that Mr. Taylor isn't going to die in the 30 minutes it will take for him to get the juggler's bail. Twenty minutes after Cox leaves, J.D. receives a page that a patient, presumably Mr. Taylor, has gone into cardiac arrest. When Cox returns, J.D. regretfully informs Cox that the patient died and Cox, angry and upset, blames J.D. for his death, takes all of his patients and dismisses him from the hospital for the rest of the night.
Two days later, Cox now looks disheveled and we learn that he has been on call for sixty hours. J.D. tells him that Jordan wants Cox to show up that afternoon for presumably Jack's birthday party. Cox initially refuses, but Ben eventually calms Cox down and talks some sense into him; Cox eventually apologizes to J.D. for blaming him for the patient's death and they leave for the "event".
Meanwhile,
Elliot
has a bunion on her foot and plans to get it removed before
Sean
comes back.
Turk
and
Carla
clash over the removal of Turk's mole (which Turk calls his "tickle button") and over Carla adopting Turk's last name when they marry. Carla coerces Turk into having his mole removed in exchange for taking his last name, but Turk privately admits to J.D. and Elliot that he doesn't want to go through with it and begs them to convince her otherwise. Carla also hates to give up her last name and asks Dr. Kelso for advice; surprisingly, he tells her that "that thing you hate so much may be the very same thing you miss when it's gone." Carla rushes into the operating room and tells Turk he doesn't have to remove his mole (just missing Turk offering the surgeon $10,000 to say it was inoperable) and Elliot takes Turk's place to remove her bunion. When preparing for the gathering, Turk declares Carla's last name and Carla kisses his mole.
One of the members of Ted's band The Worthless Peons, Chris from shipping and receiving, plans to leave the group and go solo, and Ted seeks advice from Dr. Kelso as they are preparing for the gathering. Although Kelso says Ted's band will get by, he reveals that he thinks Ted's band stinks and he doesn't really care.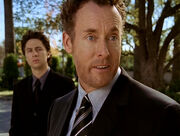 The episode ends with Ben and Dr. Cox walking in the park, presumably to Jack's birthday party, and Ben asks Dr. Cox to forgive himself. Dr. Cox nods, but continues to tell Ben about why he doesn't want to go to the party. At this point, J.D. arrives and hears Dr. Cox's statement, then asks him where he thinks he is. Ben suddenly disappears, and Dr. Cox and J.D. walk into what is now revealed to be a cemetery; they are actually attending Ben's funeral, as he, not Mr. Taylor, was the patient who died while Dr. Cox had left the hospital. Dr. Cox is fighting back tears, and - uncharacteristically - allows Jordan and J.D. to comfort him.
Recurring Themes
     More: Fantasies • Flashbacks • J.D.'s girl names • Janitor's pranks and lies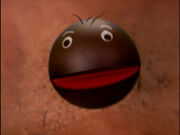 Fantasies
In a flashback of when Turk shaves his moustache, there is a close up of his mole with eyes and a mouth and starts talking.
In the second half of the episode, Ben is a hallucination, and his camera isn't on him anymore. A subtle hint is that Ben no longer takes photographs, having said he would "Until the day I die."
Flashbacks
J.D. and Danni try to make a videotape to send to America's Funniest Home Videos.
Janitor story
J.D.'s Girls Names
"

Hey, hey, Val. You know, you know what's funny? Ever since I started taking care of your patients not one of them has died.

"

—

Dr. Cox



Guest Stars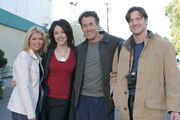 Music
     ♫ List of music featured in Scrubs
Quotes
"

Will there be a piñata? Beause I need to know if I should bring my piñata helmet.

"

—

J.D.





"

You know something? You have slept with both of my sisters. That means you and I have something in common.

"

—

Ben Sullivan





"

This is not some kind of senior citizens slumber party. I mean if it was, I would have already put Mr. Foredom's hand in a nice bowl of warm water. But god bless him, he's going to go ahead and wet the bed anyway.

"

—

Dr. Cox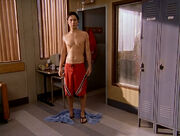 "

Ah, we're not looking for dead Carla.

"




"

That a girl. You stay optimistic.

"







"

For the man who has nothing to hide. But still wants to.

"




Trivia
This episode is tied for the highest ranked episode with "My Lunch", according to TV.com, carrying a rating of 9.8.
The episode received an Emmy nomination for Outstanding Writing For A Comedy Series.
Footage from this episode was later re-used in "My Urologist", with Dr. Kim Briggs digitally worked into it (replacing Carla) to verify she was there for Ben's funeral.
Brendan Fraser was supposed to appear in "My Long Goodbye" as Ben because Carla asks Dr. Cox if he had ever seen a ghost, however, Fraser couldn't appear because he was currently filming a new movie. Jill Tracy appears instead.
This is one of the few episodes in which the Janitor doesn't tease J.D.
In the locker room where J.D. shows off his "Shower Shorts", on the locker behind him stands "Peace Sam". Sam is the name of J.D.'s father, played by John Ritter , who died September 11, 2003. It was an honor to the actor and plus, Ben sat in front of it.
Homage to The Sixth Sense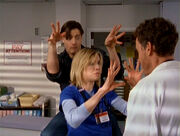 On the special features on the season three DVD, Bill Lawrence says that this episode is a homage to The Sixth Sense. The film, starring Bruce Willis, is famous for its twist ending. There are several clues to the episode's twist ending, which become more obvious during repeated viewings:
Firstly, when Cox asks Ben in the beginning if he's still taking photographs, Ben responds, "Until the day I die." After J.D. has broken the news to Cox that the patient has died (pronouns are used so the audience infers that the deceased is a recently introduced old man), Ben no longer appears on screen with his camera.
Ben first appears after his death when J.D. hands his chart to Dr. Cox. Although he seems to be walking up to Dr. Cox and looking over his right shoulder to read the chart, he was not in the room when the scene started. And while reading the chart, Ben looks surprised and says, "Wow, man - bummer!". He would've had no reason to be this upset if it was about the death of the old patient, Mr Taylor, whom he hardly knew at all.
J.D.'s monologue talks about denial when Ben first dies, and acceptance as the episode concludes. These are the first and last stages of grief, respectively.
Doctor Cox, upon being woken by Ben saying "You know what you should do?" replies "Why are you here?"
When Cox and Ben are walking through the hallway (after Ben's death), Cox tells Ben, "As a rule of thumb, I don't attend parties where the guest of honor has no idea what's going on." This initially sounds like Cox is discussing Jack's birthday party, but actually Cox is referring to Ben's funeral. Ben spends the rest of the episode trying to convince Cox to attend the event and in the climactic scene just before the doctor accepts his friend's death, Ben says that he is glad Cox came.
Cox's distress at the death of the patient is far too strong for him not to have a personal tie to the patient. In past episodes, Cox exhibited a more professional reaction to death (for example, in "My First Kill"), so the way he reacts in sending J.D. home and staying at the hospital for three days shows something more is at stake.
When Dr. Kelso walks in on Carla crying in the closet she says, "It's been an emotional couple of days." It is perceived at first that she is referring to the controversy between her and Turk, but could also refer to Ben's death.
Over the course of the three days Dr. Cox remains at the hospital, Ben is shown wearing the same set of clothes he had when he arrived.
After Ben's death we see a brief shot of Mr Taylor laying in bed, although he is still, with his eyes shut, insinuating he is dead, we can hear a life support machine operating in the background.
Lastly, after J.D. has made the announcement, Dr. Cox is the only character to interact with Ben. For instance, Elliot looks at Cox curiously as he laughs at Ben playing puppeteer to her movements, as she is unaware of Ben's presence. Besides, Elliot turns her head back and looks as if no one's there, as you expect her to see the person's eyes area.
There are other events that, while not to be seen as clues, are significant in repeated viewings, such as J.D. saying that guilt can lead to denial in his monologue straight after he tells Cox that Ben died.
The nature of Ben's postmortem appearances are never explicitly explained, but the lack of interaction between Ben and characters other than Cox suggests that Ben is the figment of Cox's imagination.
Right before Ben does the puppeteer thing with Elliot, Dr. Cox refers to the hospital staff as a "who's who of incompetent puppets," similar to how J.D.'s fantasies are sometimes influenced by something someone has said.
There is a sign in the background of the puppeteer scene that reads "PAY ATTENTION!", possibly indicating to the viewer to keep a keen eye for clues about the death of Ben.
Images
Community content is available under
CC-BY-SA
unless otherwise noted.