"My Porcelain God" is the thirteenth episode of Scrubs' third season. Dr. Kevin Casey (Michael J. Fox) struggles to sit on "The Epiphany Toilet" on the roof. J.D. is upset when he hears Turk chose his brother to be best man. Elliot learns of Dr. Casey's reputation for helping people, and tries to get his advice. Dr. Cox tries to persuade Dr. Kelso to re-open a wing which was closed for budget costs.
Synopsis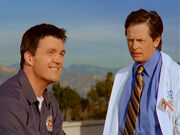 Janitor installs a toilet on the roof of the hospital, claiming that he can look at his life better than if he used a "germ-infested" stall in the building. These life-changing thoughts give the toilet the name the "Epiphany Toilet."
Turk asks J.D. to be the best man at his wedding, but J.D. hears a message from Turk's brother that reveals that Turk had first asked his brother to be his best man. J.D.'s feelings are hurt, so he lashes out by giving Turk bad advice (the opposite of what the wedding tailor told J.D. to say), starting an argument between Turk and Carla. Turk later explains that he only asked his brother because he knew that his brother wouldn't be able to make it. Elliot is afraid of intubating patients and seeks help from Dr. Casey. The doctor does help her, but in the form of an epiphany while she is on the Epiphany toilet (after he left a note instructing her to use it).
Dr. Kelso shuts down an entire wing of the hospital in order to save a large sum of money, but many patients are arriving and there are not enough rooms to accommodate them. When Bob Kelso asks Dr. Cox and Carla to find a room for his gardener, Dr. Cox turns Dr. Kelso's office into a room for the gardener. Kelso eventually re-opens the shut-down wing.
Recurring Themes
     More: Fantasies • Flashbacks • J.D.'s girl names • Janitor's pranks and lies
Fantasies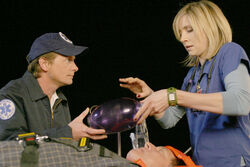 Dr. Kevin Casey asking The Epiphany Toilet "Why Can't I sit on you? Why?"
At Turk and Carla's wedding, they ask J.D. for the ring, who is dressed as a pimp and doesn't know where the rings are in all the "bling".
Elliot has an epiphany while on the toilet, she believes a helicopter lands on the roof and she has to do what she can't do herself: intubate a patient. She then sees that the helicopter paramedic is Dr. Casey, and the two lean in to kiss before she wakes up from her fantasy/epiphany.
Flashbacks
The greatest moment in J.D. and Turk's lives: getting two secret decoder rings in their cereal.
Janitor story
Janitor installs a toilet on the rooftop of Sacred Heart Hospital, which becomes his secret that, to his annoyance, is revealed to the hospital and everybody queues up to use it. The Todd walks in on the janitor telling everyone to keep the whole roof toilet thing to the group that was there. The janitor then says that there is a saying " there is a toilet on the roof " which means God is watching us. At the end of the episode, J.D. and Turk find that the Epiphany Toilet is no longer on the roof. The Janitor has been forced to move the toilet down to a supply closet, leading to J.D. walking in on the Janitor using the toilet. J.D. bumps into Colonel Doctor while trying to shake off the awkward moment.
J.D.'s Girls Names
Guest Stars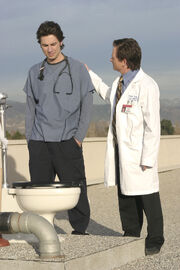 Music
     ♫ List of music featured in Scrubs
"Murder of One" by Counting Crows
"On the Down" by Tim Cullen
Quotes
Trivia
This episode is the first that Snoop Dogg Intern has a speaking part.
All the pictures in the ending credits are characters on the toilet, making this the only episode where the pictures are themed rather than just a random assortment.
Dr. Cox asks Carla to tell a Spanish-speaking patient something in Spanish, but in other episodes, Dr. Cox knows how to speak Spanish.
Due to Michael J. Fox's special guest appearance on the show, the original air time of this episode was lengthened to 40 minutes (26 minutes without commercials), instead of the traditional 30 minutes. However, in the syndicated repeat of this episode, it is edited back down to 30 minutes, removing a crucial scene in which Elliot intubates a patient incorrectly, and Dr. Cox is forced to redo it while J.D. and Elliot watch in stunned silence. Instead, in the edited version, Elliot is seen intubating this patient with no mistake, then for the rest of the episode, she is afraid of intubating patients for no apparent reason. Fortunately the original version is what's available on DVD and streaming releases.
Elliot narrated a portion of this episode, and has her own fantasy.
Turk and Carla ask J.D to be the best man at their wedding in this episode, however reference is already made to J.D. being the best man in previous episodes "My Drama Queen" and "My Brother, My Keeper".
Instead of "A Murder of One", a different song is used in the Netflix version of this episode. It is called "On The Down" by Tim Cullens.
Patricia Wilk is the patient Elliot is seen successfully intubating at the end of the episode.
Images