"My Own Personal Hell" is the fourteenth episode of Scrubs' fifth season. Turk and Carla try for a baby. Dr. Cox is named the city's best doctor, but has trouble treating a patient. Elliot begins giving Keith preferential treatment.
Synopsis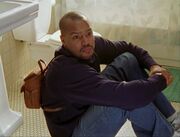 Turk and Carla are trying for a baby but Carla thinks that Turk is sterile after being tested herself and that it is taking so long to get pregnant. After Carla fails to "sperm jack" him, he goes to a fertility test with J.D. there as support. J.D. talks with Turk with walkie talkies so he can improve his relationship with him due to Elliot and Keith being so close. However, Turk throws his one away after J.D. talks about Turk's possible infertility while he's in a lift and the Janitor gets hold of the watch himself and uses it to his advantage to terrorize J.D. In the end, Turk learns that his is not sterile. The doctor attributes his and Carla's failure to get pregnant to stress.
Meanwhile, Dr. Cox was named the city's best doctor but has trouble treating a patient whom he despises and who is also a friend of Dr. Kelso's. Even after the difficulties treating the patient, Dr. Kelso tells Dr. Cox, reluctantly, that he assigned him his friend because Kelso thinks Perry is the best doctor.
Elliot begins giving Keith preferential treatment, by switching his schedule just so they can spend time together. Dr. Cox, furious at being betrayed by the Janitor, refuses to allow the switch and berates her while J.D. watches and does nothing. Despite Elliot seemingly being in the wrong, she tells J.D. that he is a bad friend and calls him out for his dislike of Keith. After hearing Dr. Kelso tell Dr. Cox that he is the best doctor and stuck him with his difficult patient (whom he despises) on behalf of a friend, J.D. decides that he must also do the same for Elliot and Keith. The interns file a complaint to Dr. Kelso after Elliot gives Keith a case that every intern was vying for. J.D. steps in and takes over the task of assigning cases and after a short speech, leaves the case with Keith, the best intern. Elliot gets off the hook.
Recurring Themes
     More: Fantasies • Flashbacks • J.D.'s girl names • Janitor's pranks and lies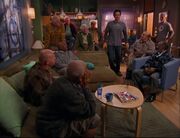 Fantasies
J.D. imagines living with a lot of old people.
Flashback
Turk sits in the bathroom crying after Carla tells him his new backpack looks like a purse.
Janitor story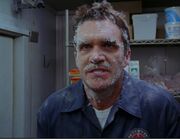 The Janitor acts as Dr. Cox's right hand man, threatening to "popsicle" anyone with his mop handle who doesn't acknowledge Dr. Cox's greatness as a doctor. After Dr. Kelso refuses to validate Cox, he pays the Janitor $20 to assault Kelso with his mop. Janitor switches to Kelso's side after cracking him in the head two times with his mop does nothing but anger him, and he refuses to let Cox leave the hospital, because Kelso wants him to be the doctor that treats a difficult patient.
After Janitor finds Turk's "Watchy Talkie" that was thrown into a trash can earlier in the episode, J.D. seeks revenge by tricking him to get locked in a walk-in freezer.
Episode Running Gags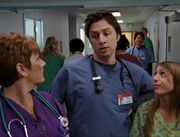 J.D. gossips with everyone about Elliot and Keith.
Guest Stars
Janet Carroll as Bonnie Cooke
Eve Brent as Mrs. Harris
Bernard Bruce as Old Man
Monica Garcia as Sperm Bank Nurse
Aaron Ikeda as Rex
David Martel as Person in Line
Robert Martin Robinson as Mr. Borland
Michelle Shore as Person in Line #2
Music
     ♫ List of music featured in Scrubs
"Living Life" by the Eels
Quotes
"

Yes, sir.

"

— Keith


"

Terrific, I need you to go up and figure out what's wrong with that darned third floor coffee machine, and Ghandaroo, I need you to talk to a young pregnant black girl who will not let me call her mom.

"




"

Why would she listen to me?

"

— Turk


"

I may have told her that you're Kanye West.

"




"

Here's the lowdown. In three hours my shift ends, at which point I will be leaving you and meeting with my ex-wife for a celebratory best doctor in the city date guaranteed to end in crazy hotel room sex. I'm thinking six-inch heels, a leather mask, and fishnet stockings. Who knows? She may even get dressed up.

"

—

Dr. Cox



Trivia/Goofs
Continuity error: During the scene in which Dr. Kelso admits that Dr. Cox is in fact the best doctor in the city, we can see that Dr. Cox's stethoscope is partially covered by his lab coat the first time the camera focuses on him. However it is completely uncovered everytime we see it afterwards.
When Carla and Turk lie in bed after having sex, Carla says that Turk got up even though his shoulder can still be seen at the side of the screen.
When Dr. Cox is reading Bonnie's blood pressure, he isn't checking for pulse nor does he have the stethoscope on her arm. There is no way to check the blood pressure by just inflating the cuff and looking at the dial.