"My Lawyer's in Love" is the eighth episode of Scrubs' eighth season. Ted falls in love with an ukulele player named Stephanie Gooch (Kate Micucci). Dr. Cox juggles too many responsibilities. J.D. and Janitor hold a truce to help Ted.
Synopsis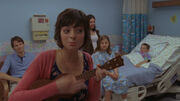 Ted and Gooch
As Ted practices with The Worthless Peons to sing to the children in the pediatric ward, J.D. wishes him luck and walks to Cox's office to ask for some new medical rooms. Cox tricks him out of his office and tells him "no" to his request, and has J.D. tell Ted that he is not allowed to sing for the children, calling Acapella music "ear rape". Janitor notifies Ted that there is already a singer in the pediatrics ward. The singer turns out to be Stephanie Gooch. Later, in the cafeteria, Ted decides to talk to Stephanie. When he walks up to her he looses his nerve, yells at her, and runs into a wall. Janitor and J.D. call a truce to help Ted talk to Stephanie. In the break room, the three talk about the essentials to talking to women. Janitor insists it is confidence, and J.D. insists it is honesty. The two then toss Ted into an elevator with Stephanie, where he cowers in the corner.
Ted eventually talks to Stephanie, but finds that he can only do it with the courage the Peons bring him. They hang out a while and sing a duet. The next day Stephanie asks if Ted would like to get a coffee without his band. At first he can't talk, but eventually honestly pours out his soul to her. They leave the hospital together.
Overwhelmed Dr. Cox
Meanwhile, Dr. Cox is trying to keep up with his work load. Dr. Kelso brings him a coffee to his office because the two are getting along better than ever. Cox checks in with a patient, Craig. He promises to help him, and has J.D. fetch him a soda. Shortly after, during rounds in the ward, He notices that Ed Dhandapani is failing to answer any questions. Ed has an excuse, but Dr. Cox wants him to learn everything about the human heart before he leaves. Carla then tells him that there are three nurses schedules floating around, and he needs to finalize one of them. Moments later, on the phone, he promises Jordan that he will pick up Jack from daycare. At lunch, Dr. Kelso reveals that he and Dr. Cox are now friends, which infuriates J.D.. Cox then receives a phone call from his son, and realizes he forgot to pick him up.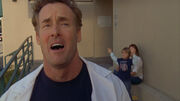 In his office, he apologizes to Jordan, who picked Jack up, and tells her that he will make it up to Jack by reading him a bedtime story that night. He then goes to check up on Ed who is still not reading the book, and runs into seventeen nurses who all showed up because he didn't finalize their schedules. He rushes to check on Craig, who he promised to take down to surgery. He missed the surgery. When Craig is released from the OR, he is mad at Dr. Cox. Cox later realizes that he will not be able to do everything he wants, and asks Carla to help revise the schedule, fires Ed, but makes time to talk to Craig. At home, he rushes in to read Jack a bedtime story, but has arrived too late, as he is asleep.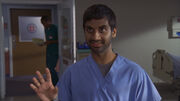 Recurring Themes
     More: Fantasies • Flashbacks • J.D.'s girl names • Janitor's pranks and lies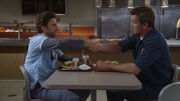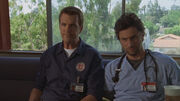 Fantasies
Janitor story
Janitor holds a truce with J.D. so that the two can work together to help Ted. Apart from Janitor occasionally turning the truce off for a while, this goes well, and Janitor manages to give Ted the courage to speak to Gooch while J.D. convinces Ted to tell Stephanie what he really feels. This eventually gets the two of them together, but as Janitor plays a prank on J.D. he says that there never really was a truce, although the two worked well together as a team.
J.D.'s Girls Name
Puberty Beard - Not a girls name, but Dr. Cox calls J.D. puberty beard, referring to his fairly short beard. This nickname is then used by Craig, Dr. Cox's patient, to J.D.'s annoyance.
Janice (Sammy), by Jack
Guest Stars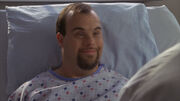 Music
     ♫ List of music featured in Scrubs
"Carry On Wayward Son" by Kansas (performed by The Blanks with Kate Micucci)
"(Don't Fear) The Reaper" by Blue Öyster Cult (performed by The Blanks)
"Innocent" by Our Lady Peace
"Mr. Moon" by Kate Micucci
"F*ck You" by Garfunkel and Oates (performed as "Screw You" by Kate Micucci and Sam Lloyd)
Quotes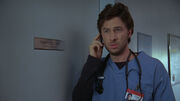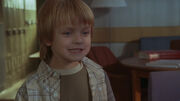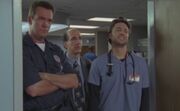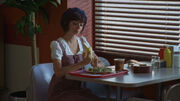 Trivia
Donald Faison and Sarah Chalke do not appear in this episode.
The webisode "Screw You with Ted and the Gooch" is a lengthened version of the song that is sung by Ted and Stephanie in this episode.
The song that Ted and Gooch sing is called F*ck You, a song by Garfunkel and Oates , a folk-duo consisting Kate Micucci, who plays Gooch, and her partner Riki Lindhome. However the lyrics are changed to "screw you" to make it broadcast TV appropriate.
Ed gets fired in this episode. He was written out of the show so Aziz Ansari could join the cast of Parks and Recreation.
Jordan is seen in Dr. Cox's office in spite of her name appearing on the "Never, ever, ever, ever, ever allowed" list from the previous episode. It should be noted that whilst J.D. appears in Cox's office in the this episode and the previous one, Dr. Cox always is hostile to J.D. when he is in the office, whilst he is comforted by the fact that Jordan is in his office.
The disease that Ed's patient most likely had was Brugada syndrome, as his patient has a Sodium channel abnormality in the cardiac tissue of the heart, which put him at risk of sudden cardiac arrest or even death.
Ted mentions that ukulele players are usually fat Hawaiians. This is likely a reference to Israel Kamakawiwoʻole.
Images