"My Half-Acre" is the ninth episode of Scrubs' fifth season. J.D. finds the perfect girl Julie Quinn (Mandy Moore) on a blind date - whose only downfall is her clumsiness. Dr. Cox struggles to become a caring father. Ted, Janitor, Lloyd and Turk form an air band, The Cool Cats, but struggles with Dr. Kelso.
Synopsis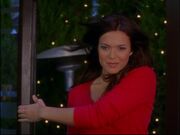 A patient of Sacred Heart Hospital sets up J.D. for a blind date with her niece Julie Quinn who, despite her stunning beauty, is quite the klutz. Nonetheless, everything is going great as the date continues at Elliot's apartment where, as Elliot predicts, J.D. spoils a romantic moment. Elliot coaches J.D. on how to avoid ruining his relationship with Julie, including how to handle a romantic moment and to break his habit of moving too quickly. While he follows her romantic advice, he succumbs to his old habit and buys a half-acre block with Julie.
Dr. Cox is under pressure from various aspects of his life, most notably his family as Jordan pushes him to be a caring father, specifically to kiss their son Jack. Seemingly exhausted, Carla reassures him that he can be that father.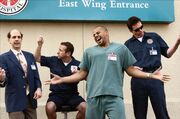 Ted and the Janitor are auditioning hospital staff to join their air band, The Cool Cats. Lloyd joins them on drums and The Todd auditions for lead vocals but is overshadowed by Turk who easily impresses the Cool Cats with his performance of "Poison" by Bell Biv DeVoe. Later, Turk mocks Dr. Kelso, driving Kelso to prohibit air banding in the hospital. Janitor explains to Turk that Kelso wants respect and when Turk apologizes, Kelso ends the ban on air banding.
As the episode comes to a close and all the matters are sorted out, the Cool Cats perform "More Than A Feeling" by Boston.
Recurring Themes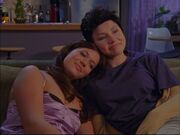 Fantasies
Flashbacks
While in bed, J.D. asks Elliot if she's "thicker," which ruins the moment.
The Janitor (bass guitar) and Ted (lead guitar) form an Air band to win a pair of water-park tickets. They quickly recruit the help of Lloyd (on drums) and eventually Turk (lead singer) to form The Cool Cats. The band is stopped from practicing by Dr. Kelso when Turk disrespects him, but with the Janitors advice Turk eventually gets him back on side and the band play once again.
Guest Stars

Music
"100 Years" by Five For Fighting
"More Than a Feeling" by Boston
"Working for the Weekend" by Loverboy
"Poison" by Bell Biv DeVoe
"Hey Julie" by Fountains of Wayne
Quotes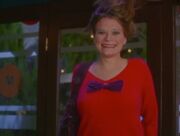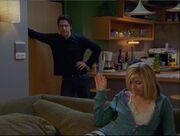 Trivia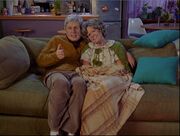 In both scenes where Ted Buckland plays the air guitar, he plays it left handed.
At the time when this episode was made, Zach Braff and Mandy Moore were dating in real life.
Broker of the year Whit Prowdy is likely named after real-life Los Angeles real estate agent Whit Prouty.
In the end when The Cool Cats are performing "More Than a Feeling", Turk can be seen lip syncing a commonly misunderstood line, he says "I may be dreaming", but the correct line is "I begin dreaming".
Continuity
When J.D. is waiting for his blind date, the camera pans to the door and you can already see the face of the older woman when she walks in, BEFORE the shot of the camera panning up to her face.
About 10.5 minutes into the episode, when J.D. pulls off his old man mask, his face is messy and his hair is greased back. On the next shot his hair is normal and his face is almost completely clean.
Images