"My Extra Mile" is the fifteenth episode of Scrubs' fifth season.
Synopsis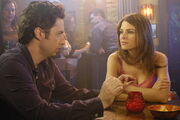 While Keith is trying to play with a Jew's harp that Elliot just gave him as a present, J.D. uses him as girl bait. Later at the hospital, J.D. encourages his colleagues to go the extra mile with their patients. This infuriates Dr. Cox, who believes that doctors' only responsibility to their patients is to cure them. He may be right, as "going the extra mile" forces J.D. to confront the possibility of shaving his head to show solidarity with a patient undergoing chemotherapy, a move that would lose J.D. his new, hair-loving girlfriend Tamara. In the end, J.D.'s realized he wouldn't be able to enjoy the simple things in life if he were to stop going the extra mile for his patients, so he shaves his head and returns to the hospital. J.D.'s extra mile theory even rubs off on Dr. Cox.
Meanwhile, a doctor suggests that
Turk
and
Carla
's inability to conceive may be stress-related. Turk is definitely under stress; worrying about his job security after learning that he is only the fourth most skilled surgical resident. However,
Dr. Wen
assures Turk that his willingness to go the extra mile with patients has made him a shoo-in for the job.
Carla, after stating the doctors do not know their patients without charts, loses Mr. Summer. She and the Janitor work together to find him, and discovers him on the roof after deducing he was having a hard time quitting smoking. Tired and stressed, she and Turk continue to try and make a baby.
Plot Points
J.D. encourages his colleagues to go the extra mile with their patients and his dedication is put to the test.
Turk is under a lot of stress when he finds his ranking as a surgeon, as the twelve surgical residents are competing for three attending spots.
Recurring Themes
Fantasies
"

Sometimes you've got to go the extra mile with patients. That's what makes me such a special doctor.

"

—

J.D.




"

That and your amazing ability to switch back and forth, seamlessly, between male and female genitalia.

"

— Dr. Cox

Following this phrase, J.D. attempts to visualize the idea of swapping male and female genitalia back and forth, only to be pulled back to reality by Dr. Cox before the fantasy can be shown to the audience.
Doctors don't know about their patients without the use of charts, even when the symptoms are obvious, such as a patient having a kitten stuck in his mouth.
Flashbacks
Carla gives Turk an ultimatum: If she doesn't get pregnant after their next sex session, then no sex until

Turk steals a baby for her.
J.D. goes the extra mile by trying to park a patient's monster truck.
J.D.'s girlfriend says that she wouldn't be with him if it wasn't for his hair and she can't think of anything else attractive about him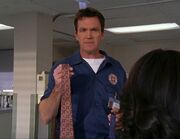 While Carla is checking on a patient, the Janitor distracts her by asking her advice on a choice of ties. Carla asks about the occasion, and he says he's using them to wipe up gunk, having obtained them from Dr. Kelso's tie rack. In the meantime, the patient has bailed from his bed. Since Dr. Kelso takes a special interest in him, being a relative of one of the trustees of the hospital, Carla has to trace him and get him back to his bed, before Kelso notices anything. Janitor gets Turk in trouble with the other surgical residents by ripping off the head of his costume, assuming that the patient was the man in the costume. The Janitor tells a story of a human head he once put in his locker over the weekend, finding it there the next work day with some rats. He then kicked the head from the hospital roof, and it was heading straight for Kelso in his convertible in the parking lot, but then a hawk flew by and snatched it out of the air. He later admits to Carla that he was making that story up. Finally, they find the patient on the hospital roof, where he has gone to have a smoke.
Episode Running Gags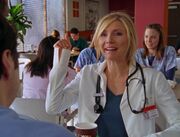 People keep 'Kelly Ripa'ing J.D, first Dr. Cox, then Elliot.
Turk also thinks Dr. Wen is Kelly Ripa'ing him, when he tells him he has a job.
Guest Stars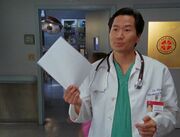 Juanita Jennings as Dr. Marston
Maria Menounos as Tamara
Wes Robinson as Jake
Traber Burns as Mr. Russell
Mary Kate Schellhardt as Carol
James Curreri as Larry
David St. James as Mr. Sommers
Greg Allen Johnson as Older Gentleman
Keith Western as Dr. Ricky
Music
"Episodes" by PELA
"Someone" by Tammany Hall NYC
Quotes
Trivia
The song "Someone" by Tammany Hall NYC is also used in the close to the episode My Friend the Doctor. (Season Three)
J.D. is doesn't want to go bald, at the fear of losing a girl whose only interest in him has to do with his hair, but it is mentioned in My Half-Acre that he has "J.D. wigs", which are exactly like his signature hairstyle.
4 minutes into the episode, J.D. walks into room 136, which is very clearly a different room that the Room 136 that is seen 16 minutes into S5E12, My Cabbage. The most telling sign is that the door is on the opposite side of the room.
The Janitor wears a cup, claiming he's hit there a lot, he was hit in the crotch by a young child in My Own Personal Jesus, possibly causing this paranoia.
When Doctor Kelso is given a lollipop, it is mostly pink and red. When the last bite is shown, the lollipop is a mix of red, yellow and green, a completely different lollipop.
Although Todd is listed as Todd Quinlan on the list of Surgical Residents Rankings, the person below him is identified as Bill "Figsack" Figarella, a surgical resident mentioned in previous seasons.
Bonnie Chang, a surgical resident portrayed by Lela Lee (but not seen since My Big Mouth), is also listed on the surgical rankings, and her last name is given as "Chang".
The surgeons are competing for 3 attending positions, but in My Day At the Races, it's mentioned that there are 4 spots.
5. Ken Whittingham is the director of the episode.
6. John Ornelas is the assistant property master.
7. Mark Stegemann is a producer, but also writer of the episode.
8. John Inwood is a recurring director and cinematographer for the series.
9. Elizabeth Newman is a producer.
10. Franklyn Guttbutter is supposed to be Franklyn Gottbetter, an assistant director.
Images