For the 2003 Scrubs cast and crew Christmas party, editor Daniel S. Russ and production assistant Ryan Levin wrote, edited, and dubbed the A Charlie Brown Christmas movie with the cast of Scrubs, titled "My Charlie Brown Christmas".
Synopsis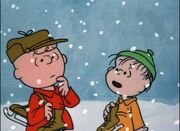 J.D. (Charlie Brown) is depressed during the holidays, and can't figure out why. He asks Dr. Cox (Linus) why he feels sad, but he is just met with a bunch of insults. After trying to joke with Laverne (Violet), he meets with Carla (Lucy) for some counseling. After realizing he is never invited to any Christmas get-togethers, she invites him to a staff party and asks him to buy a tree.
He goes tree shopping with Dr. Cox and buys the smallest tree, thinking it is perfect. At the party, Turk (Schroeder) plays Carla a song on the piano as his Christmas gift to her. J.D. arrives with the tree, and Carla yells at him. Dr. Kelso (Violet), Janitor (Shermy), Jordan ("Peppermint Patty"), and Todd (Frieda) insult him, while Ted ("Pig Pen") plans to use the pitiful tree as a comparison to make him look better. They all laugh at him and leave, but Dr. Cox stays and tells him the true meaning of Christmas: that he has to love other people to be loved by other people. J.D. receives the message and invites everyone to his house to decorate the pathetic tree, including God.
Plot Points
J.D. (Charlie Brown) feels depressed during the holidays, and can't figure out why.
Carla (Lucy) asks J.D. to buy a Christmas tree for the staff party.
Dr. Cox (Linus) rants the meaning of Christmas to J.D..
Recurring Themes
J.D.'s Girl Names
Guest Stars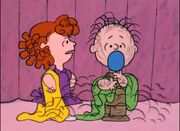 Music
     ♫ List of music featured in Scrubs
"Superman" by Lazlo Bane
"Christmas Time Is Here" by Vince Guaraldi Trio
"O Christmas Tree" by Ernst Anschütz
Quotes
Trivia
Images
Video
External Links
Community content is available under
CC-BY-SA
unless otherwise noted.