"

Who the hell put bouillon cubes in the shower head! Huh? Did you do it? Did you? If it happens again, I will wait in my SUV, blast me some speed metal, 5.1 Surround Sound heavy on the bass, and someone, will be getting...mowed...down.

"

—

Hooch



"My Changing Ways" is the twenty-fifth episode of Scrubs' fourth season. J.D. finds a new apartment and temporarily replaces Turk. Elliot questions if she should take a promising new job. Jordan takes a full-time position at Sacred Heart but Dr. Cox doesn't want to see her when he is at work.
Synopsis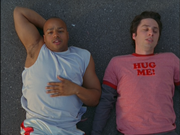 J.D. & Turk
J.D. is lying in the parking lot after he knocked himself with a basketball after a ploy to spread word that J.D. is good at sports that went horribly wrong. To save J.D. further embarrassment Turk is laying with him, making it look like they're just "chillin'". While they are down there, J.D. tells Turk that he has finally found a new apartment and is moving out. The best friends plan to spend their final night together packing up J.D.'s stuff, drinking beers and reminiscing. However, when Turk makes a comment about how he won't be as cool as he was when they were roommates, J.D. gets upset. Turk comes home that night with an 82" pizza ready to enjoy his last night with J.D., but finds that J.D. has has already moved out.
Turk visits J.D. at the new apartment only for J.D. to tell him he's tired from the move and to take his pizza. The next day at lunch Turk goes to sit with J.D. only to find that he has replace him as his best friend with Hooch. Hooch threatens Turk after J.D. told him about a prank ('Soup shower') that the pair of them did, shifting the blame solely onto Turk. That evening, J.D. and Hooch go back to J.D.'s new place, only to find that Rowdy/Steven is missing (J.D. got sole custody when he moved), there's a note saying that he's at the hospital. J.D. and Chocolate Bear 2 go looking for him; J.D. tells Hooch to guard the elevator while he goes up to the roof. Up on the roof he finds Turk with the dead dog. J.D. tells Turk what's been bothering him, and Turk tells him change is natural. They probably won't be as super close as they were, but they are moving forward in their lives.
Elliot's New Job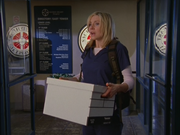 Elliot is staying at Sacred Heart next year, she and J.D. have been offered jobs as Staff Internists (whilst Turk still has another year as a Resident). She wanted to apply for an Endocrinology fellowship at another hospital, but she thought it would be too difficult for her. Elliot's boyfriend, Jake, is attempting to instill more confidence in her; he has tried to help her get passed her 'nervous pooing' affliction and encourages her to apply for that fellowship at the County Hospital. With Jake's encouragement she goes to the interview, where she sneezes blood on the interviewer, and despite that, she gets the job.
Carla feels that Jake is being too controlling, but this is really just to mask how upset she is that Elliot will be leaving, as they have become very close over the past four years. Carla says that every time she gets close to someone at the hospital, they leave for another job. Much like Turk and J.D., the pair have come to a crossroads in their friendship, but make assurances that they'll still be close.
Dr. Cox & Jordan
Dr. Cox is afraid of overlapping his personal and working lives when Dr. Kelso offers Jordan a full-time position at the hospital. She takes the job because she wants to feel important. Dr. Kelso gives her Ted's office. Ted sets up shop in the cafeteria. Dr. Cox fakes a story about a terminal child so that Jordan feels guilty about not spending enough time with Jack so she quits the job. Later, Dr. Cox feels bad about being insensitive and admits to Jordan that he tried to guilt her into quitting. She says she wants the job, but is afraid she won't be a good mother if she is gone so much. Dr. Cox tells her that she is a terrific mother and she takes the job again.
In the end
The season ends with Elliot leaving Sacred Heart, Jordan taking back her job (and Ted's office), Carla and Turk deciding to have a baby and J.D. alone in his apartment narrating on the inevitability of change. However all looks promising when a woman in a bathtub comes crashing through his ceiling. He says howdy to her, just before her boyfriend comes through his ceiling too, and threatens J.D. for "eyeballin' his woman". J.D. then remarks that he hates change.
Recurring Themes
     More: Fantasies • Flashbacks • J.D.'s girl names • Janitor's pranks and lies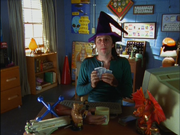 Flashbacks
Technically, most of the episode is a flashback to the events directly preceding J.D.'s moves in to his new apartment.
J.D. figures out that the Janitor's pie is drugged with laxatives by piecing events together.
Turk and J.D. first meet at College.
Janitor story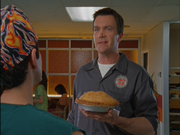 Janitor steals a whole carton of laxatives and makes a pie. He offers it to J.D. and Todd. J.D. pieces together that it is full of laxatives so he doesn't eat any, but Todd does. He gets what J.D. claims can only be described as,"epic diarrhea" and is on an IV drip for 36 hours. Janitor continues to offer J.D. the pie even though he knows J.D. knows it is full of the laxatives. In the end, to prove to J.D. the pie is actually OK to eat, he takes a bite himself and then a convinced J.D. also takes a bite. They both subsequently end up on the toilet in stalls next to each other with diarrhea. J.D. says "who would do this to themselves?" to which Janitor replies "it was worth it".
Guest Stars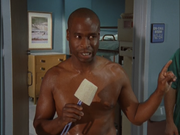 Music
     ♫ List of music featured in Scrubs
Quotes
"

Cheeks on the seat and I'm feeling good!

"

—

Elliot





"

Look, no one here is settling, here at Sacred Heart you get to work with some of the finest Doctors in the Country.

"

—

J.D.




"

Out of my way! I've got a doozy of a two-sie.

"

— Todd

"

Alright then, before we jump into rounds, I see its time for my annual Cologne intervention, Lonnie you're killing us. And honestly, what's the point? Do you understand, that not matter how badly you wanna get freaky with Karen here, that's just not gonna happen? And here's why. She thinks you have the body, of a foetus. Oh Karen, did you tell me that in confidence?

"

—

Dr. Cox




"

No, he knows.

"

— Karen

"

She drew me a picture.

"

—

Lonnie






"

For funsies.

"

— Jordan

"

Keep movin', fetus face.

"

—

Jordan to Lonnie



"

Bob, people have a private life and they have a professional life, and usually those two hells are kept pretty separate. For instance I don't know that much about your home life other than the fact that you treat your wife like a dog, your dog like a wife, and your son like an androgynous ne'er do-well who drained your retirement money to open up a urine shop in Minneapolis... and I bet that's because his significant other half doesn't follow him around the shop all day telling him just exactly what color is in this season or showing all of the other employees that he is not in fact the boss of his own life. You see the woman is everywhere. She's there when I work out in the morning, when I work out in the car on the way to work, and when I work out when I get to work, I can't seem to get away from her, and that used to be fine when she'd come round for 5 minutes every month to feed on my dignity, but now I'd honestly kill myself if I wasn't convinced Jordan would already be there waiting in the afterlife, you see typical of her she went again and signed us up for an eternal tandem bikeride all along the banks of the river Styx.

"

—

Dr. Cox



"

By the by, Johnny tells me you were responsible for my broth-y shower the other day...[Laughs]

"

—

Hooch




[Turk laughs uncomfortably]

"

...if it happens again. I'm gonna take one your fingers.

"




[Turk and J.D. look worriedly at Hooch]

"

That'll be my funny prank.

"



"

OK, I'm obviously gonna have to guess what your point is here. But I think it's that I control Elliot, which I don't. Here, watch this. Hey Elliot, will you shove that guy.

"

—

Jake




[Elliot shoves guy into a wall]

"

Hmmm.

"

— Carla


"

Why would you do that? I was trying to prove that you don't do everything I say.

"

—

Jake




"

Well clue me in, Stud. That was Creepy Carl, he runs an up-skirt website...I'm on it.

"

— Elliot

"

Hooch is crazy.

"

—

J.D. & Turk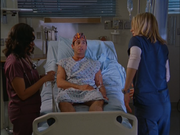 "

Who's ready for a pie break?!

"

—

Janitor




"

No!

"

— J.D.





"

Why don't you ask Todd? Due to what can only be described as "Epic Diarrhea", he's been on an I.V. drip for the last 36 hours.

"




"

Make-it-stop five.

"

— The Todd


"

Touché, magic hallway.

"

— J.D.

"

Who would do this to themselves?

"

—

J.D.




"

Totally worth it.

"

— Janitor

Trivia
First use of Super Chocolate Bear/SCB as a nickname for Turk.
The flashback in this episode chronicling how J.D. and Turk met contradicts the flashback concerning the same event in Season Two's "My Kingdom".
J.D.'s new apartment number is 47.
The nurse who tells Laverne that someone stole a case of laxatives says two different lines. She originally said "Someone stole a whole case of laxatives", while in the flashback she says "Someone stole a case of laxatives".
Images