"

I just wanna wish you two all the luck in the world because, you see, the key to marriage is... luck.

"

—

Dr. Kelso



"My Best Friend's Wedding" is the twenty-second and final episode of Scrubs' third season. Christopher Turk and Carla Espinosa get married, but Turk ends up running late to his own wedding. J.D. and Elliot are at odds after their break up.
Synopsis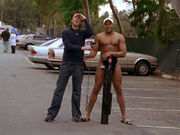 It's the morning of Turk and Carla's wedding, and all of their friends and family are around preparing for it. Elliot is still angry at J.D., who is trying to make friends with her again, but in her rage, Elliot accidentally waxes off one of Carla's sister's eyebrows. Wanting to get away from the chaos that occurs afterwards, J.D. and Turk decide to resolve a pact they made years ago; the first one of the two to get married has to caddy naked for the other one in a game of tennis ball golf, so celebrate the last time they are together unmarried. Turk is still at the hospital since he decides to work on the day of their marriage so he can get an extra two days on their honeymoon. Dr. Cox is preparing for the wedding and is ready to go, but Jordan convinces him to sleep through the ceremony and show up at the reception and just pretend they were at the actual ceremony. Meanwhile, most people are waiting for the wedding to start, and Danni crashes the wedding as she was originally allowed to come because when the wedding invitations were being handed out, she was still in relationship with J.D. While waiting for it to start, she makes out with Doug and Ted who get in an argument over who she likes more.
Turk is performing the last operation of the day, an appendectomy, but there is a problem with the operation and he is forced to finish of the operation, causing him to have to warn Carla he may be late for the wedding. While waiting for him to arrive, J.D. takes the time to convince Sean to take back Elliot, but he doesn't give a definite answer. Turk is finally allowed to leave the operating room and runs to the wedding, but unfortunately he is too late because he showed up to the wrong church. The wedding was canceled as the church was needed for another service. At the reception, moods are bad, as Elliot is still mad at J.D., Carla is upset she didn't get married and to make everything worse, Dr. Cox turns up to the reception after missing the non-occurring ceremony and comments on how nice the wedding was, not realizing that their was no wedding after all. Turk then convinces the wedding band, The Worthless Peons to play a song and everyone starts to cheer up; Sean and Elliot resolve their issues, Dr. Cox apologies to Carla and gives them advice that "how and when you get married doesn't matter", and Carla forgives Turk for arriving late. Carla and Turk go off to their honeymoon, but quickly stop off to check on Turk's appendectomy patient who turns out to be a priest, who marries them in the hospital room on their own before the two leave to go away, while J.D. and Janitor take a wasted Dr. Kelso away from the reception.
Recurring Themes
     More: Fantasies • Flashbacks • J.D.'s girl names • Janitor's pranks and lies
Janitor story
The Janitor isn't invited to Carla and Turk's wedding but shows up to the reception, claiming that he works there on weekends. He and his date commence with stealing cutlery (Forks and ladles are where the real money is), dances with Elliot and then helps J.D. carry an unconscious Kelso out to the dumpster.
Guest Stars
Music
     ♫ List of music featured in Scrubs
Quotes
"

Oh, my God! You're actually getting married in a few hours! I mean, everything's gonna be all different. Carla, you never have to have sex again except for when you actually want to.

"

—

Elliot



"

Well, that's gonna be tough on a Saturday, with Eyebrows Eyebrows Eyebrows being closed. They're gonna have to go all the way across town to the Eyebrow Hut.

"



"

I just wanna wish you two all the luck in the world because, you see, the key to marriage is... luck.

"

—

Dr. Kelso



"

I'll just have a club soda. I'm driving home.

"

—

Dr. Kelso




"

It's an open bar, cutie.

"

— Bartender


"

Give me a bucket of scotch!

"



"

You can't let him drive her home! She says thank you the naughty way.

"

—

J.D.



"

Dude, you're dealing with a nervous bride, the woman I scorned, and two sisters with three eyebrows

"

—

J.D.



Trivia/Goofs
The episode title refers to the 1997 film starring Julia Roberts and Dermot Mulroney.
Despite Turk's brother being 'Co-Best Man' in "My Porcelain God", he is nowhere to be seen in this episode, with the role being fully fulfilled by J.D..
Coincidentally, both Donald Faison and Scott Foley previously starred in an episode of the TV show Felicity also named My Best Friend's Wedding. And Donald Faison was the groom in that show too.
The man in the wheelchair who crashes into the car distracted by Turk caddying naked is one of the stunt coordinators.
Despite having outfits chosen in previous episodes, none of them match up to what they are in this episode.
Despite having been established in the previous episode that Turk and Carla would be married in a Catholic church, the church that they are married in is clearly not a Catholic church: there is no altar, and the priest is never vested, even as Carla walks down the aisle.
The actress who plays Gabriella Espinosa (the sister whose eyebrow was ripped off) is Judy Reyes' fraternal twin sister.
Turk says that he and Carla are having their honeymoon in The Bahamas, which is where the group would go in "My Soul on Fire" for the Janitor's wedding.
Although the show had established up to this point that Carla was Catholic and that the wedding ceremony would take place in a Catholic church, the church in which Turk and Carla are set to be married in is clearly not a Catholic church. The evidence for this can be seen in the fact that the church lacks an altar as well as icons and/or statues of Jesus and saints. Further, although the officiating priest is clearly a priest and not a Protestant pastor (he is addressed as "Father), he is never seen wearing any liturgical vestments, even as Carla walks down the isle. The same is true for "Father Sulu."
Images
Community content is available under
CC-BY-SA
unless otherwise noted.