"

What did you just do in there? I sure don't see any WEDDING RINGS.

"

—

Jesus



"My Best Friend's Baby's Baby and My Baby's Baby" is the second episode of Scrubs' sixth season. In this episode, Turk gets upset when Elliot takes up all the roles that he should be doing when helping Carla in labor. J.D. and Kim consider what they should do with their child while Jordan criticizes Dr. Cox for being too adult with Jack.
Synopsis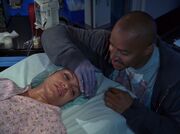 Carla goes into labor, and when Turk's continual screw-ups such as forgetting her bag and broadcasting a live webcast feed of the birth throughout the hospital, Elliot becomes the temporary caretaker. A scheme to make Turk look like the hero backfires and he becomes stuck in an ice machine. He is freed just as the baby's umbilical cord becomes prolapsed and doctors must perform an emergency C-Section. In the end, Carla gives birth to a healthy Isabella Turk.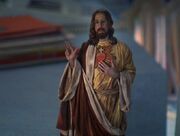 J.D. and Kim contemplate their future and the future of their unborn child. Their attempts to decide whether to have an abortion or keep the child prove futile. However, after a conversation with Jordan about the time she had an abortion and seeing Turk with his baby, Isabella, they made the decision to go through with the pregnancy and have the child.
Meanwhile, Dr. Cox and Jordan argue because of Perry's treating Jack like he is an adult, including telling him the hard-faced truth about alcohol and abortion, rather than shrugging off his innocent questions. Jack is shown dancing and singing "Fatty, fatty, fatty, fatty" while pointing at a fat woman. After the birth of Isabella, Jack asks the oft-posed childhood question "Where do babies come from?" and Perry opts for the more innocent explanation: "When a mommy and daddy are in love, they close their eyes and make a wish."
Recurring Themes
Fantasies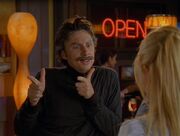 When discussing cons of putting the baby up for adoption, J.D. fantasizes about an older version of himself hitting on a young woman in a bar, not noticing the photo of himself in her locket, the only photo of her birth father.


Laverne objects to J.D. and Kim's option of abortion by placing a small figurine of Jesus on the counter, which comes to life in J.D.'s eyes, and Jesus insists that there should be no abortions. Jesus later chastises them for having pre-marital sex.
When J.D. and Kim split up to do some soul-searching, J.D. flashes to his stuffed unicorn Justin, who he goes to when needing to make big decisions.
Flashbacks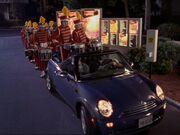 J.D. and Turk stop at a drive thru to buy food for their marching band
Janitor arrives with a handsaw to get Turk out of the ice machine, but it is suggested that he is planning to use the saw to amputate Turk's hand. After being vehemently told this isn't an option, he sits with Turk and talks on the phone to Carla for him - but does Turk no help by slapping him twice and telling him that the baby has a tail. He does help Turk drag the ice machine to the OR.
Episode Running Gags
Dr. Cox's tactless attitude towards Jack has led him to say various offensive things around the hospital.
Jesus constantly judging JD.
Guest Stars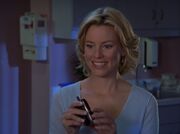 Music
     ♫ List of music featured in Scrubs
"I Saw" by Matt Nathanson
"Miracle" by Foo Fighters
Quotes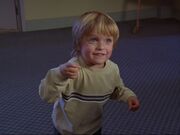 "

You're a fatty fatty fatty fatty fatty fatty fatty fatty fatty!

"

—

Jack




"

What's your son doing?

"

— Fat Woman


"

Apparently he's doing the "fatty dance." Inappropriate? Well, maybe. But I'm raising my son to be a straight-shooter. That's his mom, right over there.

"

—

Dr. Cox




"

Camera

man

?! Nuh-uh! No man's gonna be filmin' my pooter unless he's completely asexual.

"

—

Carla




"

Hellooo.

"

— Ted





"

This sucks. I mean the hardest decision I've had to make in the last year was what hairstyle to get. And even then, all I did was open up an Us magazine closed my eyes and pick a random celebrity.

"

—

Kim




"

Kirsten Dunst?

"

— J.D.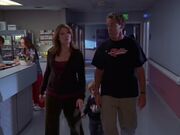 "

Congrats, Perry. My son just asked me if my vagina had ever been on television.

"

—

Jordan




"

And did you tell him not since the late eighties when you were trying to make it as "an actress"?

"

— Dr. Cox


"

My mommy had an abortion. My mommy had an abortion. My mommy had an abortion.

"

—

Jack



Trivia
According to the DVD commentary by Garrett Donovan and Neil Goldman, this episode was originally going to be titled My Indecision.
The shirt worn by Dr. Cox when Carla gives birth is from the real life Cheli's Chili Bar.
The band uniforms worn by the drumline are the same as the band uniforms worn by the school marching band at Stars Hollow High in Gilmore Girls
The address "12629" which was shown where Turk left Carla's pregnancy bag, is the address where Scrubs is filmed.
The name of Carla and Turk's baby was voted on by fans on the NBC website, and "Isabella" won the vote. Another name in the running was "Turla" which became the name of the two-headed witch in "My Princess."
It is revealed that the security guard, Leonard, lost his hand when it got stuck in an ice machine.
When asked by Jack what that is on the TV (while Carla's vagina is being shown), Dr. Cox claims it is the vagina of a 35 year old latina woman however when Carla gets a fertility test she actually reveals that she is 36.
It is revealed that Jordan has had an abortion.
Continuity error: In the scene where Turk is setting up the camera for Carla, the view-finder piece on the camera switches from being up to down between shots.
Images