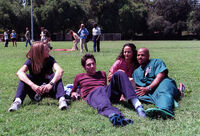 Miller Park is a park located near Sacred Heart Hospital.
About
The park is a casual hangout for community members, as well as staff of Sacred Heart Hospital. It is known that Dr. Kelso, J.D., Turk, Carla, and Elliot have all been to the park. Samantha Tanner also had her birthday party at this park.
In episode 11 of season 1, "My Own Personal Jesus," Turk sees a shining light at Miller Park, from the hospital, after losing his belief in god. This results in him running there, by foot, and saving a young girl, that Elliot had previously taken care of, from an ectopic pregnancy that could have killed her. This happened on Christmas and Turk's faith was fully restored.