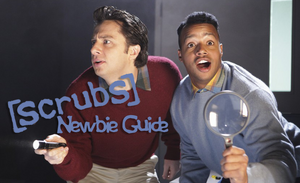 Haven't ever watched
Scrubs
? Get all the info you need to start watching the series at any point with our
Scrubs Newbie Guide
. We've provided brief character biographies, season synopses, and lists of the essential
Scrubs
episodes you should watch. Start now!

Over the nine years that
Scrubs
was on television, it aired 181 episodes over nine seasons. Browse our full list of
Scrubs episodes
or read about one of the following fan favorites. We've tried our hardest to collect the best images, quotes, and trivia about each one - but if we've missed anything feel free to
add it
!
Community content is available under
CC-BY-SA
unless otherwise noted.