Lloyd is an ambulance driver, formerly a delivery man for Sacred Heart Hospital, has been a patient, is a member of The Cool Cats, and briefly joined Janitor's Brain Trust.
About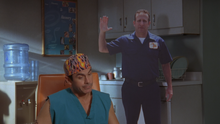 Lloyd often gets made fun of for wearing shorts to work (which is not professional), and for his height. He is also a drug abuser who went through a program at Sacred Heart Hospital but still does drugs (just no longer uses needles). He also frequently calls people "Bro" and "Brah." He has been a patient of Dr. Cox's and Turk's, even though he was just paranoid about being ill. Coleman Slawski (aka Colonel Doctor) is his father. ("My Perspective") J.D. bums a ride from him when he is given a DUI. ("My Therapeutic Month")
In the episode Lloyd brags about becoming an ambulance driver. He still headbangs to speed metal while he drives. He helps J.D., Elliot, Turk, and Carla transport Emery Redmond to his high school graduation. ("My Bad Too") When J.D. doesn't listen to Dr. Cox's instructions to pick up his son, J.D. enlists Lloyd go to Jack's daycare and has him pick him up and bring him to the hospital.
Currently, Lloyd is hiding from his bookie over a debt of $80,000. He faked his own death, which resulted in him being removed from the Brain Trust ("My Soul on Fire, Part 1")
Personality Profile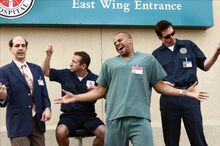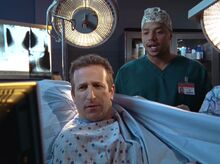 Likes
Speed Metal (DevilDriver)
Air Bands
Charice
Crack ("My Therapeutic Month")
Colonel Doctor
The Brain Trust
Trivia
His first appearance was asking Dr. Kelso to sign for a package. ("My Old Lady")
The band Lloyd listens to in "My Therapeutic Month" and "My Long Goodbye" is DevilDriver, an L.A. speed metal band.
The actor who plays Lloyd (Mike Schwartz) is a major Scrubs writer, supervising producer, co-producer, co-executive producer, story editor, executive story editor.
Lloyd once got his penis stuck in a flashlight.
At one point, he is said to be the loneliest person in the hospital.
Lloyd once delivers a package to Carla while wearing a nametag that reads "Frank". ("My Dirty Secret")
While hanging from the ceiling, J.D. sees Lloyd calling Colonel Doctor "Dad". ("My Perspective")
Appeared In
Community content is available under
CC-BY-SA
unless otherwise noted.