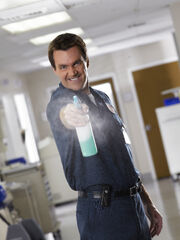 The Janitor at Sacred Heart Hospital gets pleasure from the pain of others. His most frequent target is J.D., but he plays tricks on other staff members as well. See also List of Janitor's lies and List of Janitor's temporary jobs.
Pranks on J.D.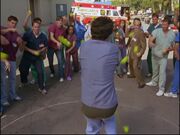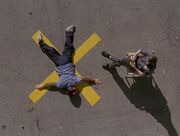 Pranks on Turk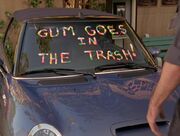 Pranks on Carla
Pranks on Dr. Cox
Pranks on Jordan
Similar to the prank played on Dr. Cox, Janitor took photos of Jordan letting strangers (including a homeless man) hold Jack, and then showed the photos to Dr. Cox. ("My Lips Are Sealed")
Pranks on Dr. Kelso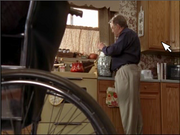 Pranks on The Todd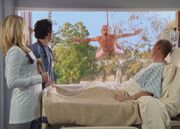 Gave The Todd a four-story atomic wedgie. ("My Missed Perception")
Gave the Todd a slice of pie laced with Laxatives which hospitalizes him giving him what J.D. describes as "Epic Diarrhea".
Miscellaneous
Sprayed a burning liquid on Doug's ear. Although, this was by accident, to test the strength of the cleaner he was using to clean a mark that J.D. accidentally made on the wall. ("My White Whale")
Put a toilet on the roof. ("My Porcelain God") * albeit not a prank merely this was done on purpose
Has a set of keys to everything in the hospital except for the third-floor mental ward, which someone stole. He often uses these keys to break into personnel files. ("My Drive-By")
Stole a hydrotherapy tub and put it on the roof. ("My Missed Perception")
Cleared out sand that accidentally spilled into Ted's office from J.D. and Dr. Cox's "beach on the roof", and used it to build a giant sand castle in the vicinity of the hospital to live in. ("My Five Stages")
At the behest of Dr. Cox, lined up all of the interns to chime in "You are!" when Dr. Cox asked who the best doctor was, "popsicling" Lonnie with his mop after Lonnie said "Y'arr" which made no sense to the Janitor. ("My Own Personal Hell")
Invented the drill-fork and various other tool/eating utensil combinations. ("His Story III")
Stole a teaching mannequin so that he could drive in the carpool lane, and leaving Keith to be punished for losing it. ("My Urologist")
Invented the business card printer/paintball gun. ("My House")
Hid a patients room by covering the door and making it seem like the room wasnt there (because he didnt want to share the room with Dr. Cox). ("My Friend with Money")
As the Environmental Officer, punished people for littering by smashing soda cans on their foreheads, but was too lazy (or possibly too scared) to make Carla drink his dirty mop water. ("My Inconvenient Truth")
Stole a motor from a patients wheelchair and used it to build a robotic (and possibly sentient) cart. ("Their Story II")
Rigged the elevator to get stuck between floors with Katie and Howie inside as revenge for touching the cart.