The Janitor is a pathological liar, and he constantly lies about himself to Sacred Heart's staff, particularly to J.D.. Below is a list of all the lies the Janitor has told over the years. See also List of Janitor's pranks and List of Janitor's temporary jobs.
Lies about the Janitor's life
Lies about the Janitor's family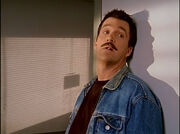 Lies about the Janitor's work
Lies about the Janitor's hobbies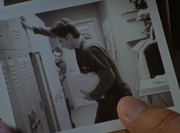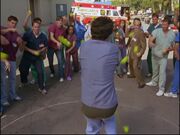 Lies about J.D.
He claims J.D. stole his ammonia and window cleaner. ("My Fifteen Minutes")
He claims J.D's TV is broken, and takes it away. ("My Day Off")
He is J.D.'s father. ("My Hero")
He claims one of the golf balls J.D. and Turk hit went through his windshield, breaking it. ("My Karma")
He is done tormenting J.D. because his residency is done. ("My Old Friend's New Friend")
He saw J.D. using olive oil to bring out Dale's pecs, and said that he's using olive oil so he can lick it off later. ("My Lunch")
He didn't steal J.D.'s videocamera, which had the scenes of Dr. Acula. ("My Urologist")
That J.D. ruined his Christmas in previous year, even though he had only worked at Sacred Heart for 3 months.
Lies about other characters
Miscellaneous lies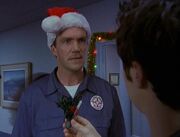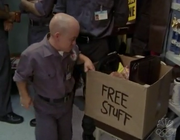 Community content is available under
CC-BY-SA
unless otherwise noted.