Jill Tracy was a recurring patient at Sacred Heart Hospital whom J.D. and Dr. Cox find extremely obnoxious, to the point of it hurting her health. She first appears in "My Nickname" and returns several times until passing away due to rabies in "My Lunch". She returns as a ghost to haunt Dr. Cox in "My Long Goodbye".
Jill is portrayed by Nicole Sullivan and appears in six episodes in five different seasons. She is one of the longest recurring patients on Scrubs.
About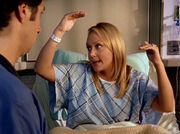 Jill is very hyperactive and loud, and many people find her extremely annoying and irritating. Elliot, however, likes her very much. Jill is admitted to Sacred Heart the first time due to stress. She stays the weekend at the hospital even though she is fine, just to rest from her busy life. ("My Nickname") A few months pass and she is admitted again due to nausea. She tells Elliot that after getting out the hospital she got rid of her fish to take some pressure out of her life, then she felt guilty so she traveled to Venice, Mt. Kilimanjaro, and Florida, and that she is now engaged. Elliot tells her that she is pregnant, and she is worried because it isn't with her fiance. When she is calling her fiance, Elliot rushes in and tells her that there was a mistake in the lab and she is not pregnant, but she has already told her fiance everything. ("My Occurrence")
Two years later she is back at Sacred Heart due to pesticide poisoning. Her doctors, J.D. and Dr. Cox, didn't initially spend enough time with her to decipher that she had been having a rough couple of months and tried to kill herself. Luckily, they realized their mistake and caught her before she could try again. ("My Fifteen Seconds")
J.D. and Dr. Cox run into her again two more years later at a grocery store. She is admitted to Sacred Heart again and passes away. Her organs were then transplanted to three other patients, and it was later discovered that she died of rabies. The three recipients subsequently died of rabies as well, sending Dr. Cox on a downward spiral of grief. ("My Lunch")
Her ghost sometimes follows Dr. Cox around. She was apparently impregnated while in heaven. ("My Long Goodbye")
Nicknames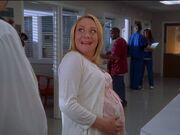 Notes
See Also
Appeared In
Community content is available under
CC-BY-SA
unless otherwise noted.