"

Cool.

"

— Jake

Jake was Elliot Reid's boyfriend. He met her by bringing in an elderly neighbor to Sacred Heart and they hit it off. Jake is portrayed by Josh Randall and appeared in four episodes.
About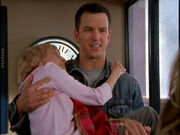 Jake first came to Sacred Heart Hospital when he brought his elderly neighbour in as a patient. She had no chance of survival and talked to Jake before making her decision to be as comfortable as possible. Her brother Dennis came to the hospital and decided to sue Jake for convincing his sister to die, but he dropped the case when he realized that was what Betty wanted. ("My Faith in Humanity")
Just before arriving at Sacred Heart, he was planning to go on a kayaking holiday in New Zealand.
Elliot decided that she would not sleep with Jake too soon because she felt that often ruined the relationship. Jake was present when she announced this to her friends but when she explained her reasons he said that he was happy to wait because he felt like they could have something special. ("My Drive-By")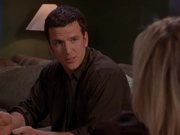 Later, Elliot realized she was having problems getting Jake to open up. She tried to pry at his aspirations, faith, and sexual fantasies. When he told her his greatest fantasy in private, she was extremely disturbed. She spoke with J.D. about her feeling toward Jake and he gave it to her straight: that she would drag the relationship on until she finally realized that she never really liked him. Later that day, Elliot broke up with Jake. ("My Day at the Races")
Relationships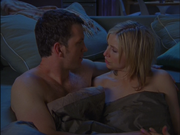 Elliot decided to ask Jake out and they began a relationship ("My Faith in Humanity"). J.D. and Turk told her that they approved of him after he agreed to buy them both a beer. During their relationship Jake showed Elliot how to become more confident of herself, such as ensuring that a black man did not think she was locking her car door because he was walking past, and even in moving away from Sacred Heart ("My Drive-By"). They finally broke up when Elliot realised that Jake didn't really know her ("My Day at the Races").
Jake disliked J.D. upon first meeting him. When J.D. revealed his shockingly low knowledge of geography (citing "alcoholism" and "clam chowder" as traits of New Zealand, which as pointed out by Jake are actually traits of New England), Jake accused him of being an idiot. Jake later told J.D. that he hated him when Dennis, Betty's brother, declared that he was going to sue him ("My Faith in Humanity"). However they later appeared to be friends when at the bar together ("My Drive-By").
Nicknames
Trivia
Jake's surname never gets mentioned. J.D. comments on this fact when suggesting that Jake escapes the hospital to avoid Dennis' lawsuit.
Jake is the only boyfriend of Elliot's who J.D. was never bothered about dating Elliot.
When Jake and Elliot are having sex for the first time, Jake jokes that he makes and distributes Hungarian pornography for a living.
When Jake tells Elliot his deepest sexual fantasy (his equivalent of her "Mexican Apple Thief scenario"), Elliot freaks out and tells him that it's disgusting. She then refuses to talk about it with him, and wont even tell J.D. what the fantasy was. The audience also never learns.
Many people also mention that he has a perfect square head.
Appeared In
Community content is available under
CC-BY-SA
unless otherwise noted.