"

I pooped in the bed so I put it on the TV.

"

—

Jack Cox



Jack Cox is the son of Perry Cox and Jordan Sullivan, and the older brother and godfather to Jennifer Dylan.
About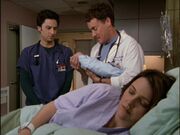 Jack is the son of Perry Cox and Jordan Sullivan. He is currently 6 years old.
At the time of Jack's conception, Jordan and Perry only met up a few times each week to have sex. Jordan came back to Perry when she was pregnant but told Perry that it wasn't his child. ("My Fruit Cups") When she gave birth at Sacred Heart, she revealed to J.D. that it really was Perry's child, but she didn't want him to feel pressured into staying with her just because of the baby. ("My Karma") When Perry discovered that he was the father, he was scared at first because he didn't think he would make a good dad. However, he quickly got over this and is now very close with Jack.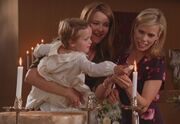 Perry is worried about Jack's future sexual orientation. He has complained about Jordan taking him to ballet lessons and how she occasionally dresses him up, Jordan says to Perry "I may have painted his toenails for funsies". He has also mentioned how Jack has an overbearing mother and that he has a fairly prominent lisp. Perry believes these things might cause Jack to be gay. Jordan once chose to irritate Cox by encouraging these tendencies after finding out that Cox had gotten a vasectomy without telling her.
Personality Profile
Likes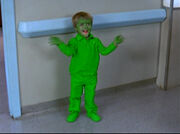 Dislikes
Nicknames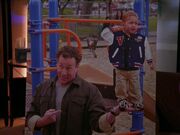 Trivia