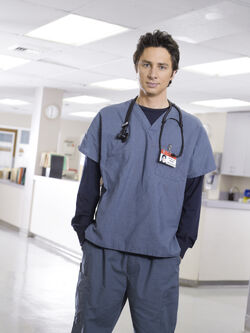 J.D. has just found out that Kim Briggs is pregnant with his baby, so he calls on Turk for moral support, who is unavailable because he is too busy dancing to his new ringtone. So instead, J.D. gets drunk with the old gay men living on his half-acre, who then take him to Las Vegas, attempt to marry him and land him on stage with the Blue Man Group. When he returns to the hospital, he tries to find someone to talk to about his situation - but fails to find anyone; Elliot gets upset that she isn't having a baby and storms off, he realizes his patient, Mrs. Zeebee, is brave enough to cope with cancer and would therefore find pregnancy as a small problem, and when he tells his friends that he got Kim pregnant without actually having sex - they just laugh. J.D. then makes the decision to go speak to Kim about it.("My Mirror Image")
Kim and J.D. contemplate their future, and struggle to decide whether to have an abortion or not. However, after speaking to Jordan about her abortion, and after they see the birth of Turk and Carla's baby, Izzy - they decide against abortion ("My Best Friend's Baby's Baby and My Baby's Baby").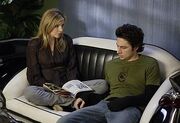 J.D. and Kim then have sex for the first time and are relieved that they are compatible in bed, but all of that doesn't seem to matter when Kim later tells him that she has been offered a job in Washington ("My Coffee"). J.D. later has more problems when he realizes he is jealous of Elliot making more money than he is, now that she is in private practice, but is happy because she uses some of it to buy him and Kim webcams so they can talk to each other long-distance ("My Friend with Money"). However, when Elliot wants to move to a new apartment, J.D. thinks that he is moving in too, even though Elliot wants the apartment to herself - but misses him when she is all alone. ("My Musical") J.D. then organizes a road-trip to Kim's new hospital to be there for her ultra-sound, however she tells him that she had a miscarriage - although she is actually still pregnant ("My Road to Nowhere").
Elliot and Turk are forced to look after J.D. when he develops a problem that means he faints whenever he poops. J.D. realizes how dependent he is on them, and how annoying it must be, when he is taped to the ceiling under Janitor's command and he watches down at people complaining about similar things as he does. ("My Perspective")
Despite the fact that he lives in a tent, can't drive his scooter and faints when he poops, J.D. decides, with the encouragement of Brian Dancer, to get back in the game - starting by asking Anne Chase out, who says no ("My Therapeutic Month"). When Laverne Roberts is badly injured in a car accident, and is dying, J.D. is obviously not feeling too happy - until he finds out that Jordan has given birth, and he is given the job, by Dr. Cox, to keep her preoccupied as Dr. Cox tries to hide the fact he has a daughter (so that his daughter's birth is not associated with Laverne's death). When no one but J.D. turns up to congratulate her, Jordan gets annoyed and out of anger and desperation, she agrees to make J.D. the godfather and name the child Jennifer Dylan (J.D.) - to J.D.'s happiness ("My Long Goodbye").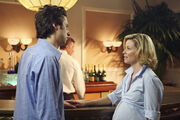 After Elliot gets engaged to Keith Dudemeister, J.D. realizes he still has feelings for her, and is also annoyed that he seems to be the only one currently not in a relationship ("My Cold Shower").
A few weeks later, J.D. and Turk go to a medical convention where they find Kim, and discover she is still pregnant with J.D.'s baby. J.D. is deeply hurt upon finding out that Kim lied to him by saying she had a miscarriage. And when she asks him to stay with her to talk about it and help her, he leaves ("My Conventional Wisdom"). He decides, however, to let her stay with him when he realizes that he needs to look after his baby. However, Kim is deeply upset when J.D. tells her that there is not even a one-in-a-million chance that they will ever have another relationship. But when Dr. Cox explains how much being a father changes your life, he decides to try for that one-in-a-million ("My Rabbit"). The one-in-a-million chance eventually works out, as Kim and J.D. resume being a couple - however J.D. starts having second thoughts about making such big commitments. J.D. is also told by Dr. Cox that he is no longer the godfather, although his baby is still called Jennifer Dylan (J.D.). He then gets even more nervous about his relationship with Kim, and hides in the on-call room, where he finds Elliot who is hiding from Keith, also worrying about the commitment that she is about to make (marriage). The two lay together, and both worrying about their commitments, they move in for a kiss. ("My Point of No Return")
Community content is available under
CC-BY-SA
unless otherwise noted.