It turns out that St. Vincent's wants J.D. to have more teaching accreditation, so he returns to teach at Winston University for a short while. J.D. begins his first day as a professor at Winston University, and kisses his new and pregnant wife Elliot in his morning ritual. He says hello to Turk, and the two run to each other in the quad to celebrate the fact that they are colleagues again. In his first class he struggles to find his teacher groove, as he tries to be too friendly and hip. He gives out mix-CDs and invites his students back that evening for free beer, but no one shows up. Turk takes him out instead, and J.D. sees his students hanging with Dr. Kelso. After failing to get help from Cox, J.D. realizes he just needs one student to take an interest in. In the quad, J.D. met Lucy Bennett and the two began talking. She asked him for help with Dr. Cox, and he provided her advice and courage to stand up to Dr. Cox ("Our First Day of School").
When she couldn't find a doctor to sign Alan Evans for transport to rehab, she asks J.D. to assist. He convinces Perry to do so with the condition that Lucy raise the money to transport him there. Days later, Alan has returned for the very same reason. Lucy finds out that Perry only signed the paperwork because he wanted to see the look of failure on Lucy's face. Lucy felt betrayed by J.D., and he told her that she needed to learn a harsh lesson that there are some things that cannot be changed ("Our Drunk Friend").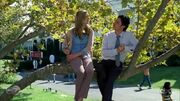 J.D. gets insanely jealous when Perry gives Drew a shirt printed with "#1". After witnessing Dr. Cox and Turk drinking beer at the bar together, J.D. feels left out. Turk assures him that he is the only "John Damn Dorian". J.D. tried to steal the spotlight from Drew by sitting in on Dr. Cox's class and trying to answer all of the questions. During rounds, Drew cripples under pressure while saving a coding patient and storms off. J.D. steps in to help. Later, at the bar, Drew approaches Dr. Cox, who ignores him and hurls a general insult at people who've wasted his time. Upset, Drew asks J.D. for help but J.D. refuses. Turk overhears this and makes J.D. talk to Perry nonetheless. At the Owlcats' football game, J.D. tells Perry that it has taken him a long time to find someone he could believe in, and that he shouldn't throw it away after one mistake. Perry takes his advice and calls on Drew during his next lecture, and informs him that he has to wear the shirt the next day. J.D. smiles, but gets extremely furious when Dr. Cox pats Drew on the back. J.D. also advises Lucy in his favorite tree and he informs her that she should start looking for a new mentor since he is leaving soon ("Our Role Models").
As J.D. and Turk prepare for a fun-filled night by wearing matching t-shirts that read "Bro-A-Palooza 2009", Dr. Cox sees them and pokes fun at them for being old and not realizing it. The two deny it, and continue to talk about their plans for that evening. Later, J.D. tells Perry that he doesn't feel old at all, and Dr. Cox invites him to Cole's party under the guise that it is Cowboys and Indians themed. When they arrive at the bar, they feel like fools, however after taking 11 shots of soda they dance the night away. J.D. accidentally kicks Turk in the face and Cole moves them up to #1 and #2 on his "lamest people at the bar" list. They return to the hospital to give Turk stitches. They realize that they are getting old, and Dr. Cox overhears them. He lets them know that being old isn't bad, as long as you have a little more maturity. The two finish their night by watching a movie at home ("Our Histories").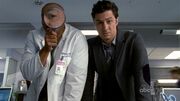 On professor evaluations, J.D. gets mostly good reviews from the students but Dr. Cox points out one that states that J.D. is needy, desperate, doesn't care about teaching, and only wants people to like him. J.D. and Turk try to find who wrote the evaluation by comparing it to the students' handwriting, but end up gathering all the students into the lecture hall in order to find out who wrote the review. He interrogates all of the students until Dr. Cox, annoyed that J.D. is putting so much time and effort into finding the culprit, comes in and admit that he wrote it, to J.D.'s shock. Perry states that he did it because he wanted to teach J.D. to stop coddling the med students and trying to make them like him. J.D. takes his advice and doesn't show up for Lucy's exam to ensure she can stand on her own as a doctor ("Our Mysteries").
As J.D. and Elliot prepare to have their baby, J.D. tries to make an evening romantic between the two of them before Elliot goes into labor, but Elliot doesn't feel up to it. The next day J.D. visits New Sacred Heart Hospital to get advice from Turk and ends up hearing from Cole about a Babymoon - a honeymoon-type getaway before a baby is born. J.D. likes the idea and tries to whisk Elliot away after her shift, but she refuses because she is too busy. J.D. later talks with Perry who tells him that Elliot won't hear reason from him solely because he is her husband. Dr. Cox talks to Elliot in a patient's room and shows her that J.D. was correct - she needs to relax before the baby is born. The married couple then takes a Babymoon inside Sacred Heart with the help of Turk, Denise, Drew, and Cole ("Our Stuff Gets Real").
Community content is available under
CC-BY-SA
unless otherwise noted.