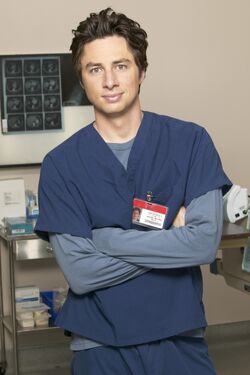 Things are still rough between J.D. and Elliot, whom he embarassingly dumped
J.D. and Elliot compete for the role of Chief-Resident, and are both named Co-Chiefs
J.D. develops a crush on Molly
J.D.'s brother, Dan, comes to visit and shares the sad news that their dad passed away
Dan stays in town and starts a relationship with Elliot, which upsets J.D.
As Molly leaves town, Elliot gets even with J.D.
J.D. begins dating Neena Broderick, but breaks it off when she sues Turk
J.D. tries to convince a man to donate a kidney to his father
J.D. and Elliot's friendship gets back on track due to their shared office
An Irishman shows Turk and J.D. how to live life
J.D. meets Kylie and debates whether he should tell her that her boyfriend has an STD
J.D. causes a quarantine-during his first date with Kylie
J.D. wonders how his life would be different if he lived in a sitcom
Turk and Carla kick J.D. out of their apartment, but, to their dismay, discover that they function better with J.D. around.
Carla and Turk start having some marital troubles, which J.D. and Elliot try to resolve
J.D. makes things worse when he drunkenly kisses Carla
J.D. moves out for good when he becomes involved in Turk and Carla's arguments
J.D. replaces Turk with Hooch as his new best friend.
Community content is available under
CC-BY-SA
unless otherwise noted.